WBS fundraising will give a lifeline to cancer patients
28 June 2013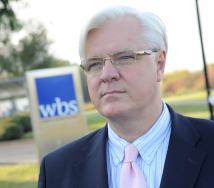 Often the biggest worry for women when they face life-saving cancer treatment is losing their hair.

Warwick Business School is adopting its first ever charity, Cancer Research at Warwick, which supports research into cancer and associated treatments. One of the pieces of ground-breaking research it is currently exploring is hoping to reduce the risk of hair-loss in cancer treatment.
Cancer Research at Warwick, part of Warwick Medical School, researches and performs clinical trials in a number of key areas including Cell biology and causes of cancer, side effects of treatment, head and neck cancer, ovarian cancer and breast cancer. All of these areas will benefit from a boost to their funds in a year-long adoption by Warwick Business School.

Professor of Nursing Annie Young is determined to help cancer patients who are scared of losing their hair during chemotherapy. "A friend of mine discovered she had breast cancer: she was a very successful medic with a great career, lots of support and she understood the implications of the cancer. When someone asked her what her biggest fear was, she said 'Losing my hair'.

"I'm sad to say that she died from breast cancer, but I am determined to do something positive to support the many other women I treat who have a fear of losing their hair during chemotherapy."
Professor Young is working on scalp cooling treatments which will reduce the risk of hair loss but says that the lack of support from the big cancer charities prevents her from fulfilling the full potential of the study. "We know that these treatments work, but we need to determine exactly the right temperatures and timeframes for which the scalp cooling treatments should be used in order for the treatment to be rolled out in the NHS. Sadly this is not something the big cancer charities have supported up to now."

This is just one of the neglected areas of cancer research that Cancer Research at Warwick is determined to focus on with the help of WBS.

Professor Mark Taylor, Dean of Warwick Business School is very keen to help Cancer Research at Warwick. "Warwick Medical School and its research team are doing some absolutely ground-breaking work into the causes and the treatment of cancer. This is the first time ever WBS has adopted a charity and we are very much looking forward to working with the Medical School to contribute to this fantastic cause.

"Warwick Business School hopes to provide the Cancer Research at Warwick team with more money to perform research in areas that would not be supported through funds from government and some of the larger cancer charities."

Every two minutes in the UK someone is diagnosed with cancer but more than 2 million people now survive after a cancer diagnosis in the UK; a figure which is predicted to rise to 3 million by 2030.

An increased survival rate for cancer patients will depend on the amount of funding available for research departments like the one at Warwick Medical School.

Professor Peter Winstanley, Dean of Warwick Medical School said: "We are so pleased that WBS has selected Cancer Research at Warwick Medical School as its charity of the year."

"Donations will be used to help find new treatments for cancer, so that side effects like hair loss, nausea and anxiety are reduced. Nowadays, more and more people are surviving cancer, but living with the symptoms can be just as difficult as removing the cancer itself. For some people the fear of losing their hair is bigger than the fear of the disease. We are researching new treatments that will help improve their quality of life." said Professor Winstanley.

More information about the clinical cancer trials currently taking place at Warwick Medical School can be found here.