WBS helps UK Great Festival of Creativity in Shanghai
10 March 2015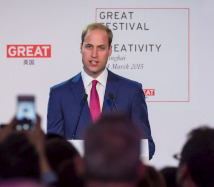 Professor Qing Wang told the Great Festival of Creativity in Shanghai the UK is well placed to catch the high-speed train of the second wave of China's economic growth - a growth fuelled by entrepreneurship, innovation and the increasingly sophisticated tastes of Chinese consumers.
The Duke of Cambridge opened the three-day festival that saw leading organisations like British Airways, Jaguar Land Rover, the BBC, HSBC, and the British Museum exhibit their cutting-edge creativity. The festival, organised by the Government's UK Trade & Investment, saw partnerships worth £150 million finalised between UK and China's organisations.
The festival was part of the 2015 UK-China Year of Cultural Exchange, which was formally announced when Chinese Premier Li Keqiang visited the UK last June. It comprises two seasons of culture - a UK season in China from March to June and a Chinese version in the UK from July to October.
Professor Wang, who researches British luxury brands and the cultural influence on Chinese consumers' willingness to buy UK heritage brands, took part in panel discussions at the festival on 'Culture, Communism and China's Modern Consumer' and 'Preparing Graduates for Work in a Global Environment'.
"British businesses are set to catch the high-speed train of the second wave of China's economic growth, a growth fuelled by entrepreneurship and innovation to meet the needs of the increasingly sophisticated tastes of the Chinese consumers" said Professor Wang.
"The first wave of China's economic development was based on low cost manufacturing of goods and an export–led model.
"It was difficult for British companies to compete in these areas with the US and German companies, who have a strong reputation in manufacturing and a large domestic market.
"However, the second wave of China's development focuses on creativity and innovation where Britain has a strong competitive advantage.
"The rapidly increasing Chinese middle-class has a deep admiration and appreciation for the rich history, heritage, culture, music, film and fashion of Britain. The success of the Great Festival of Creativity in Shanghai indicates that there is a strong willingness from both sides for doing business."
As well as Prince William stars from the British creative industries such as Sir Martin Sorrell, CEO of WPP, Michael Ward, Managing Director of Harrods, Peter Gross, COO of House of Fraser, famed graphic designer Neville Brody, of Royal College of Art, Tim Davie, CEO of BBC Worldwide, Amanda Nevill, CEO of British Film Institute, Richard Oldfield, Head of Strategy of PwC, and Lord Sassoon, Chairman of China-Britain Business Council attended the festival.
China's captains of industry also visited, with the likes of Jack Ma, Chairman of Alibaba, Victor Zhang, Vice President of Huawei, Jiang Qionger, Artistic Director of Shang Xia and highly acclaimed Chinese film director Zhang Yimou attending.
After nearly 30 years of super fast growth, China's economy has evidently slowed down. The Chinese Government is attempting to rebalance its economy for what it calls the "new normal" and Professor Wang, who is an advisor for the Leverhulme Luxury Network and House of Britannia, told the festival the UK is well placed to become a major player in this new economic and political climate in China, saying "it would be unthinkable that Britain would miss this boat".
The Warwick Business School Professor of Marketing and Innovation said: "The cost of production has gone up and many Western companies are moving their manufacturing bases out of China. But for the UK there is a huge opportunity to promote the best of Britain – the British creative industries.
"China has changed indeed - it has changed from the world's 'workshop' to the world's 'shop' with millions of middle-class consumers, whose appetite for high quality products and services is insatiable. Chinese businesses and consumers have gained a level of confidence and sophistication that they never had before. With the right marketing the UK has many products and industries that will appeal to these new Chinese shoppers."
Listen to Professor Wang on BBC Worldwide's discussion on Breaking into China and on China Radio International's People in the Know programme on Promoting Innovation in China.
Professor Qing Wang teaches on the MSc Marketing & Strategy.
Picture of Prince William courtesy of UKTI.