WBS international focused IEDP programme launches
17 December 2015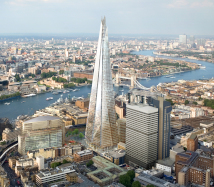 WBS is set to launch a new International Executive Development Programme (IEDP) alongside the University of Cape Town Graduate School of Business (UCT GSB) in South Africa that is designed for executives looking to take their career to a new international level.
The programme, taught over an intense week in September 2016, involves lectures, company visits and seminars covering international business, behavioural science for leaders, managing investors, leadership and macroeconomics and international capital at the impressive new WBS London at The Shard campus.
It will teach executives how to grow an international business with a macroeconomic view, identify hidden biases in thinking, and understand the capital market. It will develop the skills to establish durable, competitive advantage, plus there will be the chance to visit internationally-acclaimed business institutions.
John Thanassoulis, Professor of Finance and programme lead, said: "I am very excited about the IEDP as it is ground-breaking in every way. The International Executive Development Programme is being launched in partnership with the leading Business School in Africa: the University of Cape Town GSB.
"Business leaders from across Africa, the Middle East and indeed the world will come to the WBS base at The Shard, London to develop their business insight in the heart of a leading financial and commercial centre."
Kumeshnee West, Director of Executive Education at the UCT GSB added that delegates will experience two leading business schools in distinctly different contexts for a well-rounded global learning experience.
"This is not only a career-changing opportunity, but also a learning and cultural experience," she said.
A networking dinner and time to unwind in the UK capital is also scheduled as part of the programme.
"In a packed week we will use creative methods to develop leadership; use behavioural science to get the most from teams; discuss investors and the macro-economy complete with trips to venues such as the London Stock Exchange," added Professor Thanassoulis.
"Some of the delegates will have completed the two-week Executive Development Programme in Cape Town and will then join us in London; others will come to The Shard just for this leading WBS course. I am excited to be involved in this fascinating new venture."
For further information on the new International Executive Development Programme
call+44 (0)24 7652 4395, email the team or, alternatively read a PDF on the programme here.