WBS joins The Economist for MBA scholarship contest
21 August 2014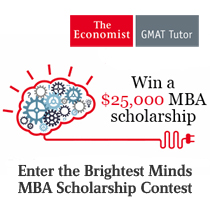 Warwick Business School has partnered with The Economist Group's business education group Which MBA? to host its second annual Brightest Minds contest with $25,000 (£15,075) up for grabs.
The contest is open to all prospective MBA or Executive MBA students worldwide. The winner will be the student who scores the highest on The Economist GMAT Tutor simulation test. They will then be given a $25,000 (£15,075) to study an MBA at one of the business schools sponsoring the competition.
The first Brightest Minds contest ran earlier this year and drew more than 4,500 entrants. The winner of the MBA scholarship, Rishabh P, of India, is currently applying to several of the business schools that sponsored that contest and plans to begin his studies in autumn 2015.
Sotirios Paroutis, WBS Assistant Dean for Generalist Masters, said: "We are delighted to be one of the sponsors of this competition, which gives outstanding candidates a chance to win a generous scholarship and develop their skills and knowledge through studying for an MBA at a top school.
"The Warwick MBA is climbing the world rankings because of our reputation among employers for rigorous scholarship combined with real-world relevance, and among our MBA participants for helping them achieve their career aims."
The simulated GMAT (Graduate Management Admission Test) exam utilises adaptive technology similar to that of the real GMAT, which is run by the Graduate Management Admission Council and widely used by business schools to aid assessment of applicants for studying an MBA, so the difficulty level adjusts according to the test-taker's ability.
"The Brightest Minds Scholarship connects prospective MBA students with leading business schools that can help them achieve their career goals. We are thrilled to provide our large audience of MBA seeking students an opportunity to win substantial financial support towards his or her MBA program of choice." said Adam Ingberman, Head of Which MBA?
The contest will close at 11:59pm ET on October 31, 2014. The winner will be announced on November 17. Five randomly selected runners-up will receive a free iPad mini.