WBS MBA nominated for Book of the Year
28 November 2014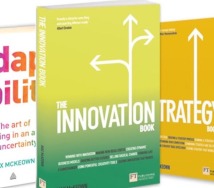 Warwick Business School MBA alumnus Max McKeown has had his seventh book The Innovation Book shortlisted for the prestigious 2014/15 CMI Management Book of the Year award.
The Innovation Book has been selected by the award committees in the final 24 books out of 160 entries.
The prize, awarded annually by the Chartered Management Institute (CMI) in association with the British Library, aims to celebrate the very best in the field of management writing. The Innovation Book has been shortlisted in the Innovation and Entrepreneurship category, one of five categories from which one overall winner will be chosen as Management Book of the Year.
Dr McKeown said: "Beautiful ideas need good friends, and so it is very helpful for the ideas in The Innovation Book to be recognised by an independent panel of judges. Innovation - or practical creativity - is about making new ideas useful. This is valuable in solving problems and finding new, wonderful opportunities for human progress."
Dr McKeown, who also earned his PhD at Warwick Business School added: "The Innovation Book has its own innovations. It is easy to read without dumbing down powerful ideas. The book turns smart thinking about creativity into practical actions that can help any reader turn into an outstanding innovator."
For his PhD, Dr McKeown was supervised by Sotirios Paroutis, Associate Professor of Strategic Management, who himself had a book, Practicing Strategy, shortlisted in the Management and Leadership category of the same awards last year.
Dr McKeown wrote The Innovation Book based on extensive research and also his experience working with some of the biggest organisations in the world including Microsoft, Sony, Vodafone and Virgin.
The winner of the Innovation and Entrepreneurship category, which goes to the book that will best inspire innovation, encourage business or product development or support organisational development and adaptability, will be announced along with the overall winner at an awards ceremony at the British Library on February 9.
A full list of the shortlisted books are available via the competition website www.managementbookoftheyear.org.uk. Follow the hashtag #managementgold on Twitter to get tips, advice and information on the books in this year's competition.
This is Dr McKeown's third book in a row to be honoured by the awards with Adaptability shortlisted and The Strategy Book a category winner as well as being selected one of Amazon's Best Business Books of 2012. His books have been translated into 12 languages including Japanese, Spanish, Portuguese and Chinese. Previous category and overall winners have included Richard Newton, Henry Mintzberg, John Kotter, Clayton Christensen and Philip Kotler.
Follow him on twitter @maxmckeown or www.maxmckeown.com