WBS partners with Travelex to develop its future leaders
14 December 2018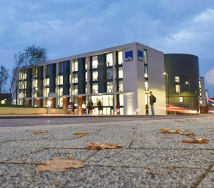 WBS to train Travelex managers on new bespoke programme
Accelerate programme helps co-create Travelex's cultural transformation
Course addresses key skills from problem solving to digital leadership
Programme will help Travelex pivot into the digital payments space
Warwick Business School has agreed a partnership with Travelex, the category leading foreign exchange specialist, to deliver the first module of its leadership development programme Accelerate.
The collaboration is the first of its kind, having particular focus on building leaders for the future and embedding cultural change, as the company optimises and leverages its traditional core business, pivoting into the next generation digital payments space.
The Accelerate programme is designed to challenge the participants to think differently, co-creating Travelex's cultural transformation approach, as it helps to shape the future cultural mindset of the business.
The year-long programme will develop the cohort on a number of key skills, including Commercial Acumen, Product Management, Emotional Intelligence and Problem Solving in the ever changing landscape of digital payments solutions.
Gareth Williams, Chief Innovation and Transformation Officer at Travelex, said: "We are delighted to be partnering with Warwick Business School to deliver the first component of our future leaders programme Accelerate.
"The week at Warwick will leverage the expertise of a world-class teaching faculty to build key skills in our next generation of senior leaders.
"As the context of work continues to change rapidly, organisations have an important obligation to set their leaders up for success."
Accelerate participants are a diverse group of leaders, representing Travelex's global reach. "Diversity breeds creativity and it's our global community of leaders working together that will be key to future-proofing our business," Mr Williams added.
The first module of the year-long leadership development programme explores foundational topics such as digital leadership, financial management and organisational behaviour - drawing on aspects of the wider MBA curriculum at WBS.
Andy Lockett, Dean of Warwick Business School and Professor of Strategy and Entrepreneurship, said: "We are excited to be partnering with Travelex in developing a bespoke executive education programme.
"Travelex has had tremendous success in the foreign exchange business, becoming a market leading brand over the last 40 years.
"Our partnership with Travelex is designed to develop the next generation of leaders and managers for the company, and choosing WBS is testimony to the quality of our staff, both in research and education.

"The business environment is undergoing rapid change and we are delighted to be helping Travelex stay at the forefront of the retail foreign exchange industry through access to our cutting edge knowledge in areas including digital leadership, human behaviour and finance."