WBS ranked first in the UK for Accounting and Finance
22 September 2014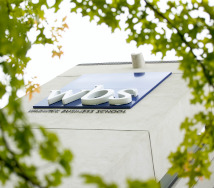 Warwick Business School's BSc Accounting and Finance course has been ranked first in The Times and Sunday Times Good University Guide 2015.
The school was also ranked fourth for Business Studies by the same publication and the University of Warwick was declared University of the Year by the Times and Sunday Times newspapers and is now ranked eighth in the UK within the overall University league table.
Dean of WBS, Professor Mark Taylor, said: "The rise of Warwick Business School in the latest university rankings is testament to our academic excellence, world-class research and creative teaching. We continue to attract high-quality students, who leave WBS well prepared to become the global business leaders of the future.
"This most recent recognition brings us ever closer to our vision of becoming Europe's leading university-based business school, committed to providing a lifelong return on investment for our students and alumni."
In 2014, 86 per cent of WBS graduates were in graduate level jobs six months after leaving university following completion of their BSc Accounting and Financing degree.
Speaking of Warwick Business School's ranking success Associate Dean of the Undergraduate Programme, Professor Louise Gracia, said: "For Warwick Business School to climb from fifth to first position for our Accounting and Finance degree is a great achievement.
"It shows our continued passion for delivering excellent teaching and learning opportunities and ultimately providing students with a first-rate and inspiring learning experience, which in turn offers brilliant future career prospects.
"Like our Accounting and Finance degree, we have also surged up the table in Business Studies, to an impressive fourth. To top it all off the University of Warwick has also been voted the University of the Year, a fantastic achievement we are all very proud of.
"With 2015 marking the university's 50th anniversary, Warwick Business School is sure to continue going from strength to strength and continue to lead the way in new research and teaching developments."
Students on the BSc Accounting & Finance degree can study a wide variety of modules across a range of core disciplines including accounting, finance, economics, operations management, strategy and business law as well as studying options drawn from the broader fields of behavioural science, taxation and investment management.
The degree also allows students the flexibility to undertake a year-long period of paid work experience between the second and final year of their degree within a prestigious firm or organisation.
New students applying for entry on the 2015 BSc Accounting and Finance degree also have the option of participating in a new Foundation Year.
The Foundation Year offers students a different route to taking the degree via an extra year of study involving a combination of traditional academic study with creativity and innovation. This is combined with a four-week work placement and an individual project.
WBS' high ranking in Business Studies is a combination of its successful other undergraduate degrees: BSc International Business, BSc International Management, BSc Management and BSc Information Systems Management and Innovation.
Students beginning their studies at WBS in 2015 will also be the first to benefit from the new £25 million extension to the school.
The extension will house a 292-seat lecture theatre with a removable stage. A 120-seat lecture theatre will contain swivel chairs to allow for group work. A Behavioural Science Laboratory containing 50 computers will also be created along with a 150-seater café, nine seminar rooms, four open plan offices for its 180 management and support staff plus a new reception.
There will also be undergraduate and post-graduate learning grids, providing computers and large screens for students to work together.
For more information on the WBS BSc Accounting and Finance degree click here.
For more information on our other undergraduate degrees click here.