WBS research rewarded with four Fellows appointed
29 October 2018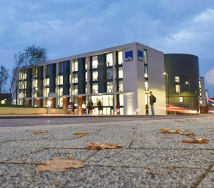 Two WBS professors made Fellows of the Academy of Social Sciences
WBS now has five Fellows at the Alan Turing Institute as two more join
Graeme Currie and Bo Chen receive social sciences honour
Arne Strauss and Xuan Vinh Doan join Alan Turing Institute
Four Warwick Business School academics are celebrating after being conferred as Fellows.
Graeme Currie, Professor of Public Management and Pro Dean, and Bo Chen, Professor of Operational Research and Management Science, have been awarded Fellows by the Academy of Social Sciences.
While Arne Strauss, Associate Professor of Operational Research, and Xuan Vinh Doan, Associate Professor of Operations, have been appointed Fellows by the Alan Turing Institute.
Warwick Business School now has four Academy of Social Sciences Fellows with Professor Currie and Professor Chen joining Nigel Driffield, Professor of International Business and Deputy Pro Vice Chancellor for Regional Engagement, and Stephen Roper, Professor of Enterprise and Director of the Enterprise Research Centre in the elite group.
The Academy of Social Sciences, which has around 1,300 Fellows, 44 Learned Societies and a number of affiliates, together representing nearly 90,000 social scientists, selects Fellows from academics, practitioners and policymakers after an extensive peer review process for the excellence and impact of their work through the use of social science for public benefit.
This includes substantial contributions and leadership in various fields, including higher education, social, economic and environmental policy, government, law, charitable foundations and think tanks.
Professor Currie's research on leadership, innovation, strategic change, knowledge mobilisation and management has seen his work published in leading international journals, such as the Academy of Management Journal and Human Resource Management.
His current research has seen him work with the Collaboration for Leadership in Applied Health Research and Care West Midlands, funded by the NHS' National Institute for Health Research, having collaborated with the Police and local authorities in the past.
Professor Chen has been at the forefront of operational research and management science for more than 20 years and in 2012 was awarded a Higher Doctorate for original and sustained contribution to scholarship at the very highest international level.
He was formerly Senior ESRC Management Research Fellow, Visiting Professor in Management Science & Engineering at Stanford University and Chair Professor in Mathematical Sciences and Industrial Engineering at Tsinghua University, China.
Dr Strauss and Dr Doan join fellow WBS academics Suzy Moat, Professor of Behavioural Science and co-director of the Data Science Lab, Tobias Preis, Professor of Behavioural Science and Finance and co-director of the Data Science Lab, and Neil Stewart, Professor of Behavioural Science, at the Alan Turing Institute, the UK's national institute for data science and artificial intelligence.
Having won several prizes for his doctoral dissertation, including the doctoral prize of the Operational Research Society for the best PhD dissertation 2009, Dr Strauss' main research area is demand management and revenue optimisation involving models of customer choice.
Dr Doan, meanwhile, researches optimisation under uncertainty, data mining, operational research and mathematical modelling and is part of the Centre for Discrete Mathematics and its Applications (DIMAP) at the University of Warwick.