WBS is one of just three UK schools to see MBA numbers rise
22 January 2013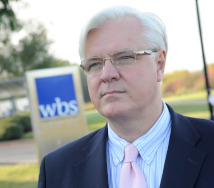 Warwick Business School is bucking the trend as more and more students take up its MBA courses.
A survey by the Financial Times has found that WBS was one of just three UK business schools to see the number of students enrolling on their MBA programme increase in 2012.
Overall the number of students enrolling on the top 18 MBA programmes in the country has fallen, shrinking by 21 per cent since its peak in 2010.
Yet more and more are coming to WBS, which is part of the University of Warwick, with 2012 seeing a 27 per cent rise in the number of students doing the full-time MBA.
The news comes on the back of a survey by High Flier Research which found that the University of Warwick was the number one university targeted by the UK's top firms to hire graduates.
Warwick Business School Dean Mark Taylor said: "It is pleasing to see not only the number of MBA students coming to Warwick rising, but also the quality growing as well. It is great to see the hard work and improvements we have implemented at WBS being recognised by students. It is a credit to all the staff at the school.
"In the last couple of years we have hired more than 60 new professors, bringing world-class research to Warwick. This is all fed into our MBA programmes as well as students benefiting from top-class teaching.
"We have set up the only Behavioural Science Group among European business schools. I saw at first hand when I was working at Blackrock how the global financial crisis defied many economic theories, and the Behavioural Science Group has been created to increase our understanding of human behaviour in business.
"We believe only innovation and creativity will drag the world out of its economic slump and so we have brought in Jonothan Neelands, an experienced drama practitioner, as Professor of Creative Education. He is working with the Royal Shakespeare Company to help bring creativity back to the boardroom.
"The overall figures for the industry show how competitive and difficult conditions are, so we have to keep working hard to keep improving and don't become complacent."
The Financial Times survey reported that 86 per cent of MBA students are from outside the UK and at WBS there were 108 different nationalities doing its various MBA courses in 2012.
As well as offering the Warwick MBA by full-time study, students can also do the Warwick MBA by distance learning, ranked second in the world by the Financial Times, the Warwick Executive MBA, ranked by the Financial Times in the world's top 25 and second in the UK, or the industry-specific Warwick Global Energy MBA.