WBS student fourth in global aerospace competition
07 February 2017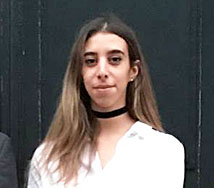 WBS undergraduate fourth in Usaire competition
Sarah Laouiti and her team-mate were the youngest entrants in the contest
The pair won €250 each among other prizes
High-level industry executives attended the event in Paris
A WBS undergraduate student has won €250 as she came fourth in an aerospace industry contest among students from across the globe including MBAs.
Sarah Laouiti and her team-mate Markus Sodar, of the University of the West of England (UWE), fought off competition from 15 teams to earn a place in the final of the awards run by the Association of United States and European Aerospace Industry Representatives (Usaire), a network of companies aiming to strengthen the links between private and public stakeholders in the civil and defence aerospace industry.
The event was held at the Cercle de l'union Interallilé next to the Palais de l'Elysée in Paris and was attended by a number of CEOs and executives from the industry.
As well as €250 each the pair also won Panasonic headphones and a model of the new Airbus plane.
Although Sarah, a fourth year BSc International Management student, was disappointed to miss out on first place, she took heart in the fact that the points average separating the top four was very slim.
Sarah Laouiti, 21, said: "We're both very proud of our accomplishment and reaching the final in the very fancy area around the Palais de l'Elysée. We were the youngest participants and the winner was a 35-year-old MBA student.
"The theme of the paper was 'how will digitalisation transform the aerospace and defence industry in the near future?'
"Although we came fourth it was an invaluable experience where we were able to apply analytical and research skills to address an interesting and relevant topic: digitalisation. Doing it in the context of the aviation industry was even more intriguing.
"I'm very proud of our accomplishment, being recognised for our work was even more gratifying given the wonderful venue and the presence of big players in the aerospace and defence industry, such as the Safran CEO."