WBS student selected for Schwarzman Scholarship
02 December 2016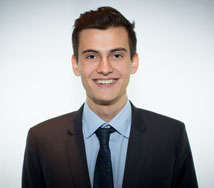 WBS undergraduate selected for prestigious Schwarzman Scholarship
Wilfried Buiron is a BSc International Management student
He will now do a Masters at Tsinghua University after completing WBS degree
Schwarzman Scholarship promotes international understanding and peace
An undergraduate student from Warwick Business School has been selected for the prestigious Schwarzman Scholarship in Beijing, China.
Wilfried Buiron is currently studying International Management at Warwick and will graduate in June 2017. With the scholarship, he will go on to a one-year Masters Degree programme at Tsinghua University in Beijing, one of China's top universities.
Passionate about entrepreneurship, Wilfried has experience working in start-ups from Paris to Beijing and speaks fluent French, English and Mandarin.
"After meeting other candidates at the interview I got the clear sense that the programme aims to bring together people with the ambition to drive significant, positive change in their field of interest - whether that be politics, women's rights, green energy or in my case entrepreneurship," said Wilfried.
"I feel very fortunate and excited to have been selected to join a group of such passionate and high-reaching individuals!"
Schwarzman Scholars was inspired by the Rhodes Scholarship, which was founded in 1902 to promote international understanding and peace, and is designed to meet the challenges of the 21st century and beyond. Its inaugural class enrolled in 2016.
Scholars chosen for this highly selective program will live in Beijing for a year of study and cultural immersion, attending lectures, travelling, and developing a better understanding of China.
Part of Freshminds recruitment company's UK top 100 graduates, Wilfried's ambition is to become a future global role model in entrepreneurship and to help deepen the connection between China and the rest of the world through business.
During his time at Warwick, Wilfried has demonstrated strong ties with Asia: he was President of Warwick Asia Careers Society, he spent a year at Peking University, Guanghua School of Management – and in 2014 he was awarded a University of Warwick scholarship for a summer programme in Beijing Renmin University.
Find out more about the BSc International Management by clicking the course link here