WBS student wins international research prize
12 May 2014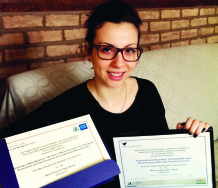 A PhD student from Warwick Business School has won an international award for her original and forward thinking research for the second year running.
Irina Surdu, a second year doctoral candidate, was awarded the Neil Hood and Stephen Young prize for the Most Original New Work at the 41st Academy of International Business (UK & Ireland) Conference (AIB-UK), having previously won the award in 2013.
The Neil Hood and Stephen Young prize is awarded annually at the AIB-UK Conference to a doctoral student for the uniqueness of their research idea and its importance to the broader international business agenda.
Irina presented her research to conference delegates from across the international business world. Entitled Back again? Antecedents, outcomes and moderators of foreign market re-entry, her research looks at multinational corporations going back into foreign markets after failing to achieve their initial objectives, how they do this and the performance implications of re-entry.
Irina said: "It feels great to have won the prize for most original new research two years running. It is a really exciting time for me, studying in an area less developed is not without its challenges, but receiving such strong recognition for my efforts is an encouraging step towards publishing new and innovative research."
Irina's thesis was supervised by Professor Kamel Mellahi and Professor Keith Glaister. Professor Mellahi, Professor of Strategic Management, said: "I am delighted for Irina. To win such a prestigious prize once is quite an achievement, but to win it again for the second year running is an amazing result. This is testimony to Irina's talent and hard work plus the quality of our Doctoral programme and research environment."
This year's AIB-UK conference was held at The York Management School and focused on the theme Achieving a New Balance? The Rise of Multinationals from Emerging Economies and the Prospects for Established Multinationals.
The Academy of International Business (AIB) is the leading association of specialists and academics in the field. Established in 1959, there are currently 291 members from the UK & Ireland, and 3,545 worldwide.