WBS students celebrate winter 2016 graduation
21 January 2016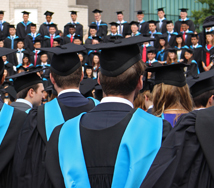 Warwick Business School students have celebrated their graduation at this year's WBS 2016 winter ceremony.
More than 400 students from a wide range of undergraduate, postgraduate and research programmes descended upon Butterworth Hall at Warwick Arts Centre.
The first ceremony saw students from undergraduate degrees, research degrees, the MBA programme, the MPA programme, all WBS MA programmes and the suite of MSc Business courses pick up their degrees.
In the afternoon students from the MSc Finance suite of courses, MSc Management, MSc Marketing & Strategy, Police Leadership and Management, and Public Leadership & Management took part in their own graduation ceremony.
Sandwiched in between the two ceremonies was a reception for students to catch up with friends, academics and generally celebrate their special day.
Professor Mark Taylor, Dean of WBS, said: "Many congratulations to all the graduates at this year's winter graduation ceremony. While your time studying at WBS may be coming to an end, we are delighted to welcome you into the WBS global community.
"Higher education is an investment in your future, and you can now move forward in your career knowing you have the potential to become world-class, socially responsible, creative leaders and managers.
"Congratulations once again, and we wish you all the best in your future endeavours."
Professor Gerard P Hodgkinson was also awarded a higher doctorate in Doctor of Science as part of Thursday morning's degree congregation.
Higher doctorates, a form of 'lifetime achievement award', are awarded to academics who have shown a considerable, original, and sustained contribution to their field of scholarship at the very highest international level.
Re-live graduation day on our live Twitter feed below: