WBS students celebrate winter 2017 graduation
19 January 2017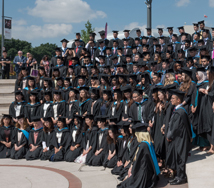 Hundreds of WBS students attend 2017 winter ceremony
Graduation ceremonies occured in two slots across the day
Students also had opportunity to catch up at reception gatherings
Graduates are first to mark the 50th Anniversary of WBS
Hundreds of Warwick Business School students have celebrated their graduation at this year's winter ceremony.
More than 700 students from a wide range of undergraduate, postgraduate and research programmes descended upon Butterworth Hall at Warwick Arts Centre.
The 775 students who attended are the first to be honoured with their degrees in what is Warwick Business School's 50th Anniversary year. There was an estimated 295 male and 480 female graduands, representing 69 different nationalities and with an age range of between 21-59 years old.
The first ceremony saw students from undergraduate degrees, research degrees, the MBA programme, the MPA programme, all WBS MA programmes and the suite of MSc Business courses pick up their degrees.
In the afternoon students from the MSc Finance suite of courses, MSc Management, MSc Marketing & Strategy, Police Leadership and Management, and Public Leadership & Management will take part in their own graduation ceremony.
Between the two ceremonies there was also a celebration reception for graduates. This was followed by a second reception after the late afternoon session. These sessions gave students the opportunity to catch up with friends, academics and celebrate their special day in style.
Professor Andy Lockett, Dean of WBS, said: "Many congratulations to all the graduates at the 2017 winter graduation ceremony, you have worked hard to reach this stage. It is a particularly special year for you to be graduating as WBS celebrates its 50th Anniversary.
"While your time studying at WBS may be coming to an end, we want to maintain a lifelong relationship with you and we are delighted to welcome you into the WBS global alumni community.
"We trust that your time at WBS will help you throughout your careers, and will be the beginning of a bright future for you.
"Congratulations once again, and we wish you all the best in your future endeavours."
Tweets about "@warwickbschool AND #wbs50" OR "@warwickbschool AND #wbsgrad" OR #wbsgrad OR #wbs50 since:2017-01-01