WBS in Global Business Case Competition
23 May 2014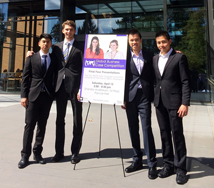 Four WBS undergraduates described the school's first foray to the University of Washington's Global Business Case Competition as a great "learning experience".
Third-year undergraduates Joaee Chew, 23, of Australia, Adrian Lim, 23, and Melson Chun, 24, both from Singapore, and Alex Carr, 21, of London, took on students from all over the world in the annual competition run by the Foster School of Business at the University of Washington.
They had just 48 hours to come up with a strategy to solve three issues that Nike encountered: relocating production from China, improving the traceability of raw materials and raising the US sportswear manufacturer's reputation as a socially responsible company that promotes sustainability.
Warwick Business School were up against Spain's IE University, Chinese University of Hong Kong, Thailand's Chulalongkorn University, Concordia University from Canada, Florida State University, Shantou University, of China, Universidad Panamericana, of Mexico, University of Melbourne, of Australia, University of Washington, Western Washington University and a Global Team made up of students from Chinese University of Hong Kong, Florida State University, NHH Norwegian School of Economics and the University of Washington.
The 12 teams were split into four divisions, with the winners going through to a final, where the Global Team, who topped WBS' division, took the honours.
"It was a great learning experience," said Adrian. "We learned a lot from the other teams, some of which were very experienced in taking part in case competitions, whereas this was our first.
"Although we did not win we learned a great deal about working in teams, real-life business challenges and most of all we learned a lot from the other team members and the various ambassadors of University of Washington."
The teams had 15 minutes to present their business strategy for Nike and another 15 minutes for questions from a panel of judges.
"The competition was intense and a real challenge," said Adrian. "But we were also given a tour around the University of Washington and Seattle.
"We also had the chance to mentor and coach high school students in an event called the Academy of Finance. And we were provided with an opportunity to work with participants from other teams, and present our mini-case findings to managers and CEOs of a few local firms including: Holland America, F5 Networks, Costco and Starbucks.
"It was a really interesting trip and great to meet so many people from all over the world. We are very thankful to WBS for providing us with such an opportunity."