WBS to host MBA Career Fair at The Shard
20 September 2016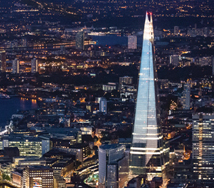 WBS to host its second annual MBA Career Fair on October 20
Over 150 students and alumni attended previous event at The Shard
Employers including IBM, Amazon and Gallup set to attend
Event presents chance to 'open door' to chosen future career
Warwick Business School is to host its second annual MBA Careers Fair at WBS London at The Shard after a hugely successful launch last year.
At last year's inaugural event over 150 MBA students and recent alumni attended, and with student numbers on the MBA programme up on last year, the figure for this year's event on October 20 is set to be even higher.
A range of employers are set to be present to discuss career opportunities with attendees including Gallup, Vodafone, Grant Thornton and Admiral Group. Other companies interested in attending the event are encouraged to email: recruit@wbs.ac.uk for more information.
Stefano Maggioli, a Full time MBA alumni, found the event an excellent way to support his development.
"Attending the MBA Career Fair was a very positive event in supporting my development, building connections, and networking about both short and long term career opportunities," said Stefano.
Paula Braithwaite, Recruiting Specialist, Gallup believes the recruitment fair is a fantastic opportunity for students and recruiters alike.
She said: "This event is a great networking opportunity for current and past students. They get to meet with some key recruiters and companies as well as other like-minded students.
"I find that these career fairs generate some fantastic contacts and you never know, a meeting today could open the door to your chosen career in the future
"I find as an organisation we get some meet some outstanding individuals. Everyone's career path is different however from the conversations I have had with some of the students I have understood more about today's graduating generation and what they want from a recruiter and a company than any other source. These interactions are invaluable for the growth of our company."
Oliver Walmsley, Director of Corporate Relations said: "After such a successful launch event last year we are confident that this latest MBA Career Fair will be even better and look forward to welcoming a range of different companies."
Recruiters interested in find out more details about the WBS MBA Career Fair should email: recruit@wbs.ac.uk