WBS tops new Guardian undergraduate rankings
27 May 2015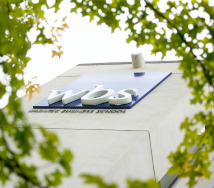 Warwick Business School's undergraduate courses have been ranked first and second in the UK by The Guardian University Guide 2016.
The national newspaper rated Warwick Business School first for accounting and finance and second for business, management and marketing.
It is the second ranking that has rated the school's BSc Accounting & Finance as the best in the country, with The Times and Sunday Times Good University Guide also putting it first. The performance from WBS in the business, management and marketing subject area is based on its three other undergraduate courses: BSc International Management, BSc Management, BSc International Business and BSc Information Systems Management & Innovation.
Mark Taylor, Dean of Warwick Business School, said: "The ranking reflects the hard work and enthusiasm of our staff to give our students the best possible education we can.
"It is our goal to provide students with a real return on their investment, and these rankings show that students are more than satisfied with their experience at WBS. As well as the lecturers and academic staff, the ranking is testament to the hard work of our WBS Careers Plus service, which works tirelessly to ensure graduates have every opportunity to move into a fantastic career in the financial and business world.
"We strive to produce outstanding, socially responsible and creative business managers and leaders through world-class teaching. I am delighted to see our students are finding our undergraduate programmes enable them to fulfil their ambitions."
The Guardian's league tables rank universities according to: spending per student; the student/staff ratio; graduate career prospects; what grades applicants need to get a place; a value-added score that compares students' entry qualifications with their final degree results; and how satisfied final-year students are with their courses, based on results from the annual National Student Survey (NSS).
With 92 per cent of BSc Accounting & Finance students at WBS satisfied with the course, according to The Guardian's rankings, many move into roles within the Big Four accountancy firms and key financial organisations like Credit Suisse, Bank of America, and UBS.
WBS has recently launched an Assurance Scholarship scheme with professional services firm EY, which offers students the opportunity to receive £15,000 during the degree plus a year-long placement at an EY office, which could turn into an offer for a full-time job.
The Guardian found that 94 per cent of students doing business, management and marketing at WBS were satisfied with their course, with 95 per cent of them gaining employment six months after graduating, most moving into management consulting, financial service activities, and accounting within large, global commercial firms like Nestle, BNP Paribas, JP Morgan and Proctor and Gamble.
Louise Gracia, Associate Dean for the Undergraduate Programme, said: "It is very gratifying to see our courses so highly rated by students. We have worked very hard to provide an experience that not only gives students the technical skills and knowledge to thrive in the business and financial world but also to become creative and critical thinkers.
"We are very innovative in our approaches to learning and teaching, with WBS Create helping to inject new creative ways of learning that draw on drama and music embedded alongside more traditional methods. It is pleasing to see students appreciating these learning innovations."
The University of Warwick was ranked sixth overall in the UK by The Guardian, up three places on last year's position, once again placing Warwick as the top University in the West Midlands.
Click here to see The Guardian rankings.