Williams and Dallara reveal latest 3D printing technology
07 December 2016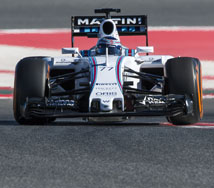 Williams Martini Racing part of research project into Formula One.
The pinnacle of motorsport is leading advances in 3D printing
Top Italian chassis builder Dallara will join Williams for dicussion
WBS researchers working with the cutting edge of motorsport technology
Pushing the boundaries of technology is what the high-octane world of Formula One does on a daily basis and so it is no surprise that it is leading the way in 3D printing.
The process, also known as additive manufacturing, which sees layers of material added on top of each other under computer control to create an object, is being used increasingly across motorsport where accuracy, speed and minute reductions in weight are essential.
Additive manufacturing is being seen as a panacea, disrupting conventional manufacturing techniques with its ability to create geometrically complex parts in any location.
Warwick Business School has joined forces with Cass Business School to lead a study to assess the impact of 3D printing on and understand the innovation going on with the new technology.
The researchers has involved Williams Martini Racing Formula One team and Italian chassis manufacturer Dallara, who have dominated Formula Three.
Both will be present at the revealing of the preliminary results of the study at WBS London at The Shard on December 7.
Sebastiano Massaro, Assistant Professor of Behavioural Science, who is chairing the event, said: "Interestingly, the industry experts we interviewed did not consider additive manufacturing a new phenomenon but more an evolution of 'rapid prototyping' into a technology that is now integral to the development of complex and low volume components.
"In Formula One they literally can't do what without additive manufacturing. It was evident that it evolved from its original application for wind-tunnel prototyping into fundamental technique that plays a part in all development stages including the production of end-use components for non-load bearing applications."
Williams Martini Racing's Materials Engineer Clare Sibley and Andrea Vecchi, Wind Tunnel Manager at Dallara Engineering, will be part of a panel discussion also involving Dr Massaro, Paolo Aversa, of Cass Business School, Gianni Lorenzoni, of Bologna University, and Phill Dickens, of Nottingham University.
"In its current form, 3D printing is limited by volume capacity," said Dr Massaro. "For this reason it is unlikely to be a panacea for all manufacturing problems.
"The future is likely to be a hybridisation of both additive manufacturing and conventional techniques, symbiotically exploiting their individual benefits to realise a leaner and quicker motorsport manufacturing network.
"In the future 3D printing will proliferate through British motorsport propelled by material and technology advances and an increased understanding of the specific application of its value.
"The view of industry experts is that innovation will allow yet further freedom of design in terms of hybridisation between 3D printing and other technologies such as robotics, embedded sensors and smart materials. Formula One, with its significant R&D budget, will continue to spearhead development, transferring these advances down to less well funded motorsports categories."
Williams Martini Racing has partnered E-Manufacturing Solutions (EOS) in using high-end additive manufacturing (AM) solutions, while Dallara has used 3D printing technology to aid its design process, creating 3D models that it can test - such as checking the movement of the suspensions - before moving then into the finished car.
Dr Massaro added: "It is apparent that the true value of additive manufacturing can only be realised if you design specific to the materials and processes. For this to become more standard practice then the next generation of engineers must be well educated in 3D printing technology and willing to champion its value in forums that include members entrenched in conventional methods."
Sebastiano Massaro teaches Emotions in Business on the Undergraduate programme.