Winter 2014 graduation celebration
04 February 2014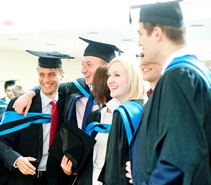 Just over 1,000 WBS students celebrated their graduation last month. Not all were able to attend in person, but nevertheless many were able to travel to the Warwick campus. Together with their guests and families and WBS staff, totalling well over 900, they took over the top floor of the Rootes building on the Warwick campus at a WBS-hosted buffet lunch.
Many of the WBS graduates have gained Distinction, the highest level in a degree, and many are understandably excited about the jobs they have landed following their academic success.
Finance Masters
Jack Delany, Sam Evans and Katerina Vratnikova were three of seven students who achieved Distinction for MSc in Finance. Jack is taking up the post of Consultant with Fideres Partners in London, Sam has accepted the role of Structured Equities Broker at ICAP Plc also in London, while Katerina is returning to her native Czech Republic to start work as an intern for ARX Equity Partners in Prague.
Yazhou He is staying at WBS to study for her Finance doctorate, having graduated with Distinction in MSc Accounting & Finance.
No less than 14 Masters students across the Finance Masters suite of courses were awarded Distinction this year, a remarkable achievement.
The Warwick MBA
Elliott Jacobs commenced studying for his MBA in October 2012 through the Warwick Executive MBA, which requires working managers to attend for week-long modules throughout the year.
The standard study pattern of the Warwick Executive MBA would normally take around three years, but Elliott was able to complete his studies, project and dissertation in an astonishing 11 months, and graduate with Distinction.
He commented, "I experienced first-hand both the flexibility and fast-tracking ability of the Executive MBA programme in assisting me to complete all MBA modules and my project and dissertation in a condensed period of time."
Elliott used a gap in employment to fast-track his MBA studies, and is now Programme Office Manager for luxury mobile and smart phone company Vertu.
Stuart Dixon started his Warwick MBA by distance learning but moved to the full-time programme after leaving the Army in 2012.
He has now graduated with the Warwick MBA together with his partner Suzanne Gaunt who he met on the distance learning MBA.
Having now started a new role in the Financial Services industry, Stuart says, "In addition to expanding my knowledge and networking with great colleagues, another bonus of the Warwick MBA is the fantastic career support that is provided and which helped me to transition to a new career."
Staff success
The Winter Graduation also included the awarding of Doctor of Science to two members of WBS faculty, Professors Loizos Heracleous and Daniel Read. Higher doctorates, a form of 'lifetime achievement award', are awarded to academics who have shown a considerable, original, and sustained contribution to their field of scholarship at the very highest international level.
Additionally, WBS Professor of Behavioural Science Nick Chater, Head of the Behavioural Science group, nominated Professor George Loewenstein to receive an Honorary Doctor of Science. Honorary Doctorates are awarded by the University to outstanding individuals who by their achievements and activities have contributed to learning and society. Professor Loewenstein is one of the founders of the field of behavioural economics and more recently of the field of neuroeconomics. A report on all the key figures recently awarded Honorary Doctorates is available here.
Dean of WBS, Professor Mark Taylor, commented, "I congratulate all our recent graduates and am delighted to welcome you into the Warwick Business School global community. Higher education is an investment in your future, and you can now move forward in your career knowing you have the potential to become world-class, socially responsible, creative leaders and managers.
"We ask that you keep in touch with us so we can continue to deliver extra value and a competitive edge to you throughout your working life, together with all the added benefits of belonging to the Warwick and WBS network of graduates."
Further information
Stay connected with WBS via www.wbs.ac.uk/alumni/
Find out more about WBS courses here.