Winter graduation celebrations
29 January 2013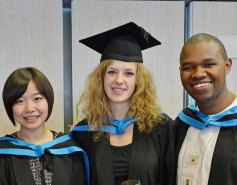 Wednesday 18 January 2012 was a day of celebration for many WBS postgraduates as they graduated at the Winter Degree ceremonies, held in the Arts Centre on the Warwick campus. A total of 457 students attended graduation, while 684 guests and numerous WBS staff joined them for a buffet lunch at the Rootes Panorama Suite. A further 219 students graduated in absentia.
Below is just a small selection of new graduates whose achievements and talent are representative of WBS graduates.
Zuzana Janeckova won best overall performance for MSc Finance, and Wojciech Zurowski won best dissertation for MSc Finance & Economics. The strong suite of Finance Masters courses at WBS is a major attraction for both postgraduate applicants and recruiters. We look forward to seeing the first cohort of the newly-launched MSc in Finance & Information Technology graduate next year.
Three graduates from three separate courses are not only celebrating graduating, but also a big step forward in their career.
Simon Casey (MSc Finance & Economics) is moving to London to work as Graduate Analyst for the Bank of Ireland.
Clare Patterson (MSc Management) is taking up a post in Sales & Marketing at one of the world's best-known premium drinks businesses Diageo.
Martin Stoeckl (MA Management & Organizational Analysis) was recommended for his contribution to studies while at WBS, and is now returning to his pre-course employer, Accenture Management Consulting, having gained welcome and deserved promotion.
Dean of WBS, Professor Mark Taylor comments, "Congratulations are due to all our graduates as they progress on to the next step of their careers. WBS aims to deliver top-quality innovative education through excellent teaching and cutting-edge research which feeds into the classroom. However, our interest in our graduates does not finish in the classroom, but continues throughout their career. We aim to give our alumni extra value and a competitive edge as they develop their working life, through the benefits of wide-ranging services of our External Relations office, and the opportunity to network globally with over 33,000 fellow WBS graduates."