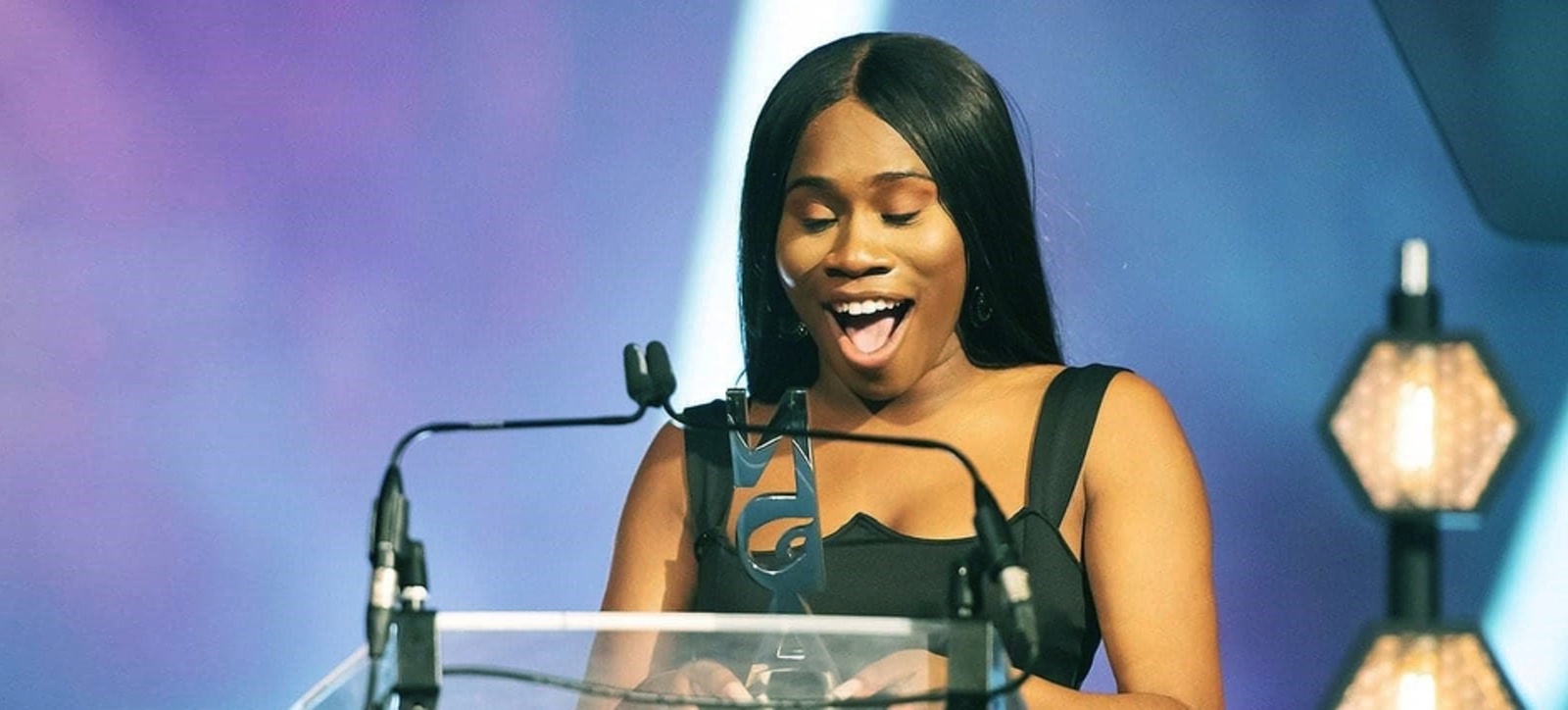 Victoria's US Programme to help disadvantaged women wins top prize
The 24 year-old takes home the Community Organisation Gender Award
Celebrities Katie Piper, Alex Brooker and Jake Graf on judging panel
US Programme has helped more than 1,000 girls since Victoria set it up
Former WBS undergraduate Victoria Azubuike is celebrating after winning a National Diversity Award for her ground-breaking US Programme.
The 24 year-old (pictured) founded the US Programme in 2016 to help young women from disadvantaged and under-represented backgrounds gain the tools, contacts and knowledge to break into blue chip companies and start the careers they dream of.
At the National Diversity Awards, which are in association with ITV, the US Programme won the Community Organisation Gender Award, with Victoria collecting the gong from former Brookside actress Jennifer Ellison and Matthew Fell, Bloomberg Chief of Staff, Diversity & Inclusion, at the glitzy bash at Liverpool's Anglican Cathedral.
Victoria, who works as a Resourcing and Operations Executive at Edtech firm Zen Educate after graduating with a BSc Management, said: "It was an amazing event, there were 60,000 nominations across all the categories, with more than 500 applications for our category.
"I did not think we would win or even make it to the final eight as we were up against some really big and well-established organisations, so I was just there to enjoy the night. I didn't prepare for it at all, I was totally speechless when I collected the award – it was amazing.
"When we were nominated we had to send in an acceptance speech and then people were able to vote for us, before the judges sat down and decided who to give the award to. And as I walked up to collect the award there were videos of our ladies saying how much the US programme meant to them. The award is wonderful recognition for the work we do."
The judges included model and activist Katie Piper, Miranda Wayland, Head of Creative Diversity at the BBC, Headspace actor and director Jake Graf, TV presenter Ade Adepitan, Comedian Alex Brooker, and award-winning ITV journalist Carol Jordan.
The US Programme has now mentored more than 1,000 girls aged 15-19 years-old, who are from low income households, or are eligible for free school meals, or young carers, and are the first generation of their family to attend university.
Through networking events, such as this month's She Who Innovates tech event, workshops and development sessions, the US Programme helps young women develop the careers they aspire to.
It also partners with organisations and companies like tech giants Google, law firm Linklaters and IT consultants netcompany to offer young women development programmes, with the project providing a bridge to companies looking for a more diverse workforce.
Victoria, who gained entry to WBS through the school's Foundation Year for under-represented groups, added: "It is always amazing to see the transformation and improvement in our young women. It shows that anything is possible if you put in the hard work and have a goal or dream. Supporting the next generation of women is an issue on many organisations' agendas - many are looking to improve their diversity and gender numbers.
"Organisations need to attract and retain the next generation. There are so many reports on how Generation Z will change the way we work; they are more vocal about social and political issues and more demanding of organisations. Our young women are the future leaders that are going to be really shaking up how organisations work."
The US Programme originated in Victoria's home city of London, but has expanded to Manchester, Leeds, Birmingham and now Dublin, Ireland, where it is partnering with Google. It has worked with more than 50 schools across the UK, inspiring and mentoring young women to realise they can follow in Victoria's footsteps and be more ambitious in their career goals.
"After five years we have a huge alumni network now supporting our young women," said Victoria. "Many are going into higher education or being selected for graduate schemes at top companies, with many more gaining employment and really reaching the goals we set when we started – it has been a fabulous journey that I hope this award will help us to keep growing."