Prof Qing Wang talks to BBC Radio Scotland about the impact of China's leadership transition
16 November 2012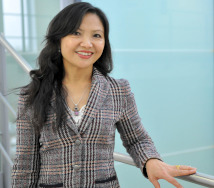 Xi Jinping won't bring radical change to China
Professor Qing Wang says China's new leader has a lot of emerging political and social problems to deal with, but he will not make radical changes to the country. She will be speaking on BBC Radio Scotland's breakfast show at 930am on Saturday 17 November. You can hear Professor Wang here at about 1hr 38.
Xi Jinping was anointed as the new leader of the Communist Party of China and named chairman of the party's military commission on Thursday, handing him a strong mandate to rule the world's most populous country for the next decade.
Professor Wang, who has advised the Chinese Government on how to stimulate their domestic consumption, is visiting professor at Tsinghua University where Xi once graduated from, says the changing demographics put greater pressure on the Government to justify the legitimacy of the one party system in terms of its ability to represent an increasingly diverse and potentially conflicting range of interests.
"China is very different economically and politically now than it was 10 years ago" says Wang, who is Professor of Marketing and Innovation at Warwick Business School and Director of MICEE (Marketing, Innovation and the Chinese and Emerging Economy).
"The new generation of leaders have to be able to communicate with the different stakeholders in the country more than they could ever before."
Professor Wang believes that though Xi will be a reformist compared to his predecessor Hu Jintao's conservative leadership style, he will not be the person who instigates the process of democracy in China.
"Democratic-style elections have begun to happen at grassroots level, but I don't think Xi will do anything radical," says Professor Wang. "He will continue the Communist Party's focus on stability and growing the economy, as he will want to show he has the ability to build on the past. The goal that unites everybody in China is still economical; that is to take the top spot in GDP in the world.
"A recent McKinsey report predicted that this will happen in the 2020s. However, the new leader is facing many difficult domestic challenges ahead as China is entering a new economic and political era.
"With its GDP now standing at US$7.3 Trillion, which is five times more than 10 years ago, it is now ranked second just behind the US. Ten years ago it was sixth behind not only the US, but Japan, Germany, UK, and France. Its GDP per capita has also increased five times from US$1,000 to US$5,500.
"What these figures mean is that the country's vast supply of cheap labour is fast disappearing and so is the country's cost advantage.
"In the meantime, the country's middle class and urban population is rapidly growing and they demand high quality, premium products and services. The export-led model of development is no longer viable. As recent figures show, 9.5 per cent of China's GDP growth in 2011 came from domestic demand and only 0.8 per cent came from net exports.
"The Government needs to start a new round of policy reforms ranging from fiscal, monetary to industrial restructuring to stimulate domestic private consumption and shift its focus to high value added and knowledge intensive industries. For example, the government has recently raised the threshold of personal income tax to increase disposable income among China's middle and lower income groups and has set an inflation rate of four per cent for this year.
"There is also an increase in the poverty gap between the very rich and the very poor. The new leadership is in urgent need to establish an adequate social welfare system and financial services industry as well as build a clean government and fight corruption.
"While the Chinese Communist Party created an economic miracle, at the same time they also destroyed old safety nets for many workers under the planned economy. When the economy was growing at double digit in the past two decades, the problem was not as acute as when the economy is slowing down as it is now. The new leaders now have to face up to these problems, which the old leaders managed to avoid."