A great placement and an inspiring volunteer project
06 February 2014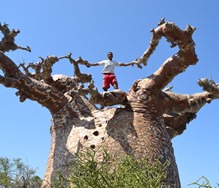 Jaymal Amin, now in his final year of study at Warwick Business School, is a member of the BSc Accounting & Finance Undergraduate Partnership Programme. The UPP, developed in partnership with the Institute of Chartered Accountants in England and Wales (ICAEW), is designed to offer accounting and finance, and management undergraduates the opportunity to gain a year's work experience in a leading professional accountancy firm or similar business environment as part of their degree.
Jaymal spent his year on placement at Goldman Sachs, followed by six weeks in Madagascar working with volunteers for marine and community conservation organisation, Blue Ventures. We asked him about this exciting time.
What was your reaction on getting a placement at Goldman Sachs?
I was hit with an immediate feeling of joy and astonishment, given the level of competition for the placement and prestige of receiving an offer from Goldman Sachs. Once I had absorbed the news, my feelings changed to excitement and anticipation at the knowledge and opportunities that would be available to me.
What work did you get involved in at Goldman Sachs, and how did this develop your skills?
I was based at the EMEA Headquarters (Europe, Middle East & Africa) in the City of London, and worked as an Analyst within the Internal Audit division. Internal Audit, or IA, is an independent function that provides management with an objective assurance that a division is operating effectively, based on the assessment of risks, controls and compliance with laws and regulation.
I was involved in an array of global and regional projects, from Commodities and Fixed Income trading, to the Equity Capital market desk. The breadth of projects enabled me to work in teams of all sizes and with individuals of all levels of experience and seniority, based across the firm's global offices.
The team-based environment acted as my greatest learning experience, as it accelerated my communication and technical skills, as well as increasing my understanding of working in a knowledge-sharing environment.
I was frequently given responsibility of projects and stakeholder meetings, both within and outside of IA, which enabled me to contribute to the overall firm and to develop my leadership skills. Involvement within the EMEA Veterans' Interest Forum, Community TeamWorks projects, and co-organising a charity cycle ride from London to Paris highlighted the unique opportunities available to all employees for self-development.
What were the highs and lows of working on this placement?
Initially, I was very aware of the knowledge gap between current employees and myself! However, I soon became accustomed to the fast-paced working environment, and found that I absorbed new information from my colleagues, and was not afraid to ask questions.
The variety of projects kept day-to-day working life enjoyable, and allowed me to increase my knowledge base. Seeing projects through from start to finish provided great satisfaction and delight.
Blue Ventures looks and sounds amazing. What did you learn on this voluntary work?
I joined Blue Ventures, a marine and community conservation organisation, as a volunteer on a six-week expedition in Andavadoaka, Madagascar. Madagascar is the world's fourth biggest island, located in the western Indian Ocean, and is the eleventh poorest country in the world.
Volunteers stay in very primitive huts, with no amenities such as running fresh water or air conditioning, so not always as good as the photos suggest! Living amongst a community in such a poor country opened my eyes to the extent of poverty in Africa, and the financial challenges, nutritional struggle and living environment of much of the population.
We conducted underwater research and data gathering into the population and geographical mapping of coral and fish life in local reefs. The Blue Carbon project aims to aid coastal communities by linking the conservation of mangrove, seagrass and wetland habitats with international carbon markets, as the fishing industry there is in decline and needs to change.
Volunteers also contribute towards projects on health, education, the protection of endangered species and aquaculture farming. I was privileged to assist the Aquaculture Co-ordinator with delivering a six module micro-financing course to local farmers, where I was able to apply my learning from studying at WBS.