A moratorium won't resolve the UK's shale gas question
27 January 2015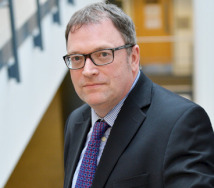 The House of Commons' Environmental Audit Committee's report Environmental risks of fracking is recommending a moratorium on hydraulic fracturing, but Michael Bradshaw, Professor of Global Energy, argues there is no need for one.
While the Environmental Audit Committee's report makes a number of recommendations that would potentially improve the management of the environmental risks associated with fracking for shale gas, it is difficult see what their call for a further moratorium would achieve. What's needed now is careful, practical work to assess what shale gas resources we might have, whether they can be developed in an acceptable way and what role they might play in meeting our goals for both energy security and climate change.
When Cuadrilla's drilling activity in the spring of 2011 triggered some small seismic events, the Government imposed a moratorium on drilling in November of that year. In June 2012, the Royal Society and The Royal Academy of Engineers published a report on the impact of fracking that contributed to a traffic-light approach to manage the risk of hydraulic fracturing triggering significant seismic events. At the end of 2012 the Government accepted the majority of the report's recommendations and lifted the moratorium on drilling.
Since then there has been very little drilling activity, but the Government has set up the Office of Unconventional Oil and Gas, which has produced a regulatory roadmap to manage the process of getting approval to drill. The process is complex, involves multiple agencies at both the national and local levels plus, at the moment at least, is taking a long time to reach any decisions. The Environmental Audit Committee's report recommends that there be a single regulatory body and this would probably be welcomed by the industry, but it should not be at the expense of local accountability.
The Government's position is that the risks related to shale gas are known and manageable within the existing regulatory framework. In that respect, the report covers familiar territory and says little that was not said at the previous two enquires into shale gas by the Energy and Climate Change Select Committee and the most recent House of Lords Economic Affairs Committee enquiry.
Narrow evidence base
The limited amount of drilling activity in the UK to date means these enquires are drawing on a narrow evidence base for the country. There is a lot to learn from what has happened in the US, but what is now known from both there and around the world is that understanding the local geology is critical. A good deal of work is now being done by the British Geological Survey to establish environmental benchmarks and improve our understanding of the geology before significant drilling activity starts.
The Government also announced funding in the Autumn Statement for the real-time monitoring of the environmental impacts of drilling activity and the industry will be required to invest in environmental benchmarking and monitoring. Thus, if drilling and hydraulic fracturing were to be permitted it would probably be the most carefully monitored drilling programme in the world. But such close scrutiny is required to assess the risks and impacts.
Here we get to the problem of a moratorium, yes we know that shale gas drilling and hydraulic fracturing, like any industrial process, carries risks and has negative environmental impacts if not properly managed. But we won't know the scale of those risks in a UK context and ensure our regulatory regime is fit for purpose unless we have a drilling programme to manage and monitor. In such a context a more precautionary step-by-step approach makes sense, as does a restriction on fracking in the most environmentally sensitive areas. We are at a very early stage in the potential development of shale gas in the UK. We need an exploration programme of 30 to 40 wells to know if there is even a commercially viable resource and it may turn out to be just too costly to develop in the UK under the market conditions we expect in the 2020s.
Hundreds of wells
Looking beyond that initial assessment, it is now widely understood that the open nature of the UK's gas market means that shale gas production would not result in significantly cheaper gas, as has been the case in North America. As the report makes clear, to be commercially viable and make a material difference to the UK's gas security there would need to be a significant drilling campaign with hundreds of wells being drilled every year. That prospect might simply be unacceptable to society, but the key point is that we are a long way away from taking that informed decision at present. David Cameron's statement that "this Government is going all out for shale" appears to have thrown caution to the wind. Research funded by the Department of Energy and Climate Change and Sciencewise suggests that people are now suspicious because they think shale gas is a done deal.
When it comes to the issue of shale gas, greater caution and a dose of common sense are badly needed. We are not on the cusp of a US-style shale gas revolution; according to a recent article in The Guardian only 11 wells are planned for the UK in 2015. We should be using this opportunity to test the regulatory system and monitor the impacts of shale gas drilling and hydraulic fracturing; only then can we have an informed debate about whether or not to develop shale gas in the UK.
When it comes to climate change, the jury is still out on the problem of methane leakage and, again, only independent monitoring of actual drilling and production can resolve that. The report argues that shale gas development is not consistent with the UK climate change targets. However, this relates to the much wider issue of the level of gas consumed in the UK in the future, which will be determined by the success or failure of wider plans to decarbonise the UK energy system, not whether or not we develop shale gas. It should be remembered that only one-third of the UK's natural gas is used in the power sector, one third is used in industry and the other third in households. At present some 80 per cent of UK households use natural gas. That gas demand is not going to disappear anytime soon.
Impasse remains
Natural gas will have an important role to play in the UK's energy mix for many years to come. That role will inevitably change as it provides back-up for the intermittency of wind and solar power, as recognised in the Government's Gas Generation Strategy. But there remains considerable uncertainty over how much gas we will need and where it will come from. The Government suggests that, without any shale gas production, imports will account for more than 70 per cent of our consumption by 2025. In such a context domestic shale gas may have a part to play, but only if the industry has been able to gain a 'social licence to operate'. To do that it must be demonstrated that the environmental and social risks are acceptable to society and manageable through regulation and monitoring. But that can only be achieved if it is allowed to drill within the close scrutiny now in place.
A new moratorium on drilling and hydraulic fracturing will do nothing to resolve the current stalemate over the question of developing the UK's shale gas potential. Instead it will create a Catch-22 whereby there is no drilling because of environmental concerns, but because there is no drilling we don't know what the environmental impacts are under UK conditions and how the risks can be managed satisfactorily within effective regulations.
This impasse is actually recognised by the report that states: "Uncertainty about their significance [environmental risks] is in part a reflection of the fact that the fracking operations have yet to move beyond the exploratory stage in the UK." Rather than a moratorium, what is required is a precautionary approach that judges each drilling application on its merits and monitors its impact, which, in time, will result in a much more informed debate than we currently have.
See this article featured in The Guardian.
Professor Michael Bradshaw teaches Energy Global Politics on the Warwick Global Energy MBA.