A Summer School in Venice on Practice-Based Studies
02 October 2013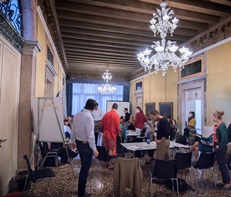 Warwick Business School and the Innovation, Knowledge & Organisational Networks Research Centre (IKON) have successfully hosted the inaugural edition of the International Summer School on Practice-Based Studies, bringing together some 40 top international faculty and young scholars for five days of vibrant discussion and learning relating to an increasingly prominent field of organisational scholarship.
The Summer School took place during the second week of September 2013 at the prestigious Palazzo Pesaro Papafava, home of the 'Warwick in Venice' Programme. The event was supported by a generous grant from the Warwick Institute of Advanced Study (IAS). The event is a yearly initiative aimed at the development and promotion of practice-based studies. By bringing together the leading scholars in the field, the School aims to become a primary centre for the elaboration and dissemination of this new development in the study of social, technological, and human phenomena.
This year's School concentrated on how to conduct practice-based studies in social and organizational research, by focusing on exploring concepts, strategies, and consequences. Over 35 advanced students and young researchers from Europe, Asia, Australia and the Americas joined some of the most prominent academics in the field: Martha Feldman, Mika Panzar, Theodore Schatzki, Dvora Yanow and Jack Whalen. The programme alternated lectures, group discussions, research clinics and free-flowing conversations, facilitated by the beauty of the city and the hospitality of its cafés and restaurants.
The organisers, Professors Davide Nicolini and Hari Tsoukas and Dr Maja Korica, agreed the Summer School was a great success:
"The quality of the scientific discussion was excellent, the climate open and collegial, and all the participants, both senior and junior, went home with new insights, new ideas and plenty of food for thought".
The initiative was also extremely very well received by its first participants, who described the inaugural edition as "a superlative experiment". Comments submitted after the event were equally positive:
"Thank you all for a great week - I learned something from each and every one of you."
"I really enjoyed the very high level presentations, interactions and readings."
"Thanks again for our days in Venice and for organizing such a productive workshop. The conversations we all had together and the learning that took place was both enjoyable and very helpful for me. It was an indulgence in the best possible and productive sense!"
Following this year's positive experience, the organisers plan to repeat the Summer School next year.
Photographs by Felix Drobek