Acquiring soft skills for leadership is hard work
30 April 2015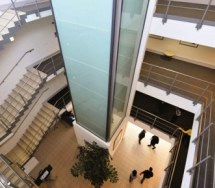 "Leaders aren't born, they are made. And they are made just like anything else, through hard work."
So said legendary Gridiron coach Vince Lombardi and yet it has taken business schools a while to catch on to this. MBA graduates will often take on leadership and management roles, but often they turn up without the 'soft skills' needed.
While the focus of many MBA courses is on gaining the core skills required to take your career to the next level, 'soft skills' such as effective communication, working in a team and emotional intelligence can be neglected.
Yet it was these skills that Christos Erois, a Marketing Manager from Greece, was eager to learn when applying for his MBA.
"Top tier companies are constantly looking for tomorrow's leaders and trying to recruit people with specific characteristics," said Mr Erois. "It is vital to be able not only to deeply understand those key leadership characteristics but also to demonstrate that you possess them."
The MBA at Warwick makes sure all students learn these soft skills, a term that has come to describe a cluster of traits around communication and managing people and relationships. LeadershipPlus is one of the full-time MBA's core modules.
"The LeadershipPlus module was one of the main factors that influenced my decision to join the MBA at Warwick," said Mr Erois. "The module gave me an opportunity to better discover myself and to see more clearly both my strengths and weaknesses."
Students are actively encouraged and challenged to develop their soft skills, which will ultimately make them better leaders and influencers.
The WBS CareersPlus service worked with Bob Thomson, Professor of Practice, and with associates from the Sykes Fairbairn organisation to develop LeadershipPlus. Bob has 25 years' experience of leadership development and one-to-one coaching in the energy industry and in Higher Education.
The module asks students to think about what they personally stand for as a leader; how they can manage themselves effectively; and how they can lead, manage and influence other people successfully.
Professor Thomson believes MBA students can learn from their own life and work experiences, the real-life scenarios that have shaped them as a leader, as well as learning from what they are taught in the classroom.
"Traditionally, an MBA is very strong on rational thinking – finance, strategy and marketing," he said. "But managing people in organisations is also about interpersonal relationships, communication and emotional intelligence. We wanted to put a core module into the MBA that taught and assessed these skills in the participants."
LeadershipPlus is based on four experiential workshops, looking at high performing teams, managing yourself, skilful and courageous conversations, and leading people. It aims to develop emotionally intelligent and capable leaders.
During each workshop participants work in groups and keep a personal journal recording their individual key learning points, ideas for further exploration, and areas of confusion. They also work on a client engagement project with external organisations on a business problem and use their expertise to come up with a recommendation on how their client can tackle the problem.
Priya Boovaraghavan, an MBA student from India, said: "The LeadershipPlus module was one of the most useful and practical modules in the MBA. It gave me skills that I could not only implement in my other modules but that I will also be able to use at my workplace after my MBA. I liked that the module was not merely about learning frameworks in a classroom.
"We were asked to consider the MBA programme as a learning environment and not be discouraged by mistakes or failure. The WBS team encouraged us to learn by experimenting. For example, we were asked to conduct feedback sessions after each syndicate group meeting so that we could review the positives and negatives of our interaction, and come up with improvements for the next meeting. This helped us improve each day and move towards becoming a high performing team."

Find out more about the full-time MBA here.