An investor's guide to winning The Apprentice
17 July 2013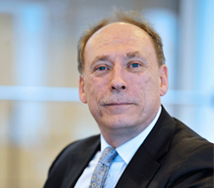 With The Apprentice reaching a climax this week Professor John Lyon reveals there is more to being a successful entrepreneur than a glamorous image, a few snappy lines and an ability to blame your colleagues for everything.
Whoever Lord Sugar picks to invest £250,000 into their business plan Professor Lyon points out that pitching is just the start of a long road for the entrepreneur, where perseverance and hard work are the name of the game.
On The Conversation website Professor Lyon, who was a venture capitalist and an entrepreneur before moving into academia, said: "Practising the perfect pitch many times over many days will pay off, as long as the vision and belief are still maintained.
"But storytelling alone is not enough; once the money is in the bank the successful entrepreneur must actually build their business. This requires perseverance, tenacity, innovation and creativity. Often the business plan is out of date within the first month and the entrepreneur needs to be able to adjust and build while still keeping all stakeholders happy.
"And these adjustments have to happen fast. Once, the day after raising a substantial sum of money, I found myself ordering stationery, recruiting a secretary, learning how to cut and paste myself (my PAs used to do it) and how to use and abuse the coffee machine. I moved from having two assistants looking after me to having my own keys to my own two desk office. In the entrepreneurial world, successful people will always look for solutions rather than problems, and rolling your sleeves up and getting on with creating new opportunities is the name of the game.
"I know some venture capitalists that say they can pick winners and others that will accept that they can't win them all. After all, failure can be an asset, if the right lessons are learned. Indeed in the US measured risk taking is valued among entrepreneurs, however in Europe failure still carries more of a stigma.
"There is no magic formula that guarantees any businessman or woman will be a success, but there are of course certain traits associated with success. The entrepreneur needs a toolkit that involves all the skills mentioned above combined with the traditional business school subjects – finance, marketing, strategy.
"He or she needs be a chameleon not even day to day, but minute to minute, as the environment changes so rapidly and so many balls must be kept up in the air. Our entrepreneur must communicate with people at all levels, often going through a range of emotions in one day, from despair to elation, from disappointment to outright joy – a rollercoaster of a journey."
Read the full article at The Conversation here.