Analysing Twitter use to estimate Trump turnout
25 January 2017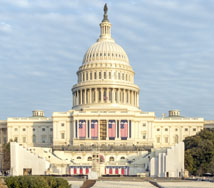 Academics compared Twitter use at Trump Inauguration and Women's Rally
Suzy Moat and Tobias Preis found 2.5 times more Twitter use at the latter
This method was previously used to measure attendance at San Siro stadium
Estimates in the paper fell within 13 per cent of real figures
After President Donald Trump's inauguration ceremony on Friday January 20 and the subsequent Women's March a day later, questions have arisen over which event attracted the larger crowd to the National Mall in Washington D.C.
To answer this question, scientists from the Data Science Lab at Warwick Business School analysed the number of geotagged tweets sent by Twitter users from the National Mall on both days.
They found that over 2.5 times as many people tweeted during the Women's March than during Donald Trump's inauguration. In previous research, the team have provided evidence of a relationship between Twitter activity and crowd size.
Tobias Preis, Associate Professor of Behavioural Science and Finance and Co-Director of the Data Science Lab said: "We were interested to see whether we could build on our earlier findings that Twitter usage can be related to the size of a crowd.
"In our previous work, we demonstrated that data from Twitter and a mobile phone network gathered from a football stadium in Italy reflected the number of attendees recorded. We therefore analysed the tweets we had collected from the National Mall in Washington D. C. on Friday and Saturday."
"We counted Twitter users who sent tweets during each hour on Friday 20 and Saturday 21 January where the marked location of the tweet fell within the National Mall," Suzy Moat, Associate Professor of Behavioural Science and Co-Director of the Data Science Lab added. "We then normalised these user counts, such that the volume of users tweeting during the hour of Trump's inaugural ceremony was given the value 1."
Dr Preis said, "We found that the maximum hourly Twitter user count during the Women's March was around 2.5 times higher. Given our previous work, this might suggest that the size of the crowd attending the Women's March on Saturday was around 2.5 times larger than the crowd on the National Mall during Donald Trump's inauguration."
In their original paper, Quantifying crowd size with mobile phone and Twitter data, published in Royal Society Open Science, Federico Botta, Research Fellow in Data Science at Warwick Business School, Moat and Preis analysed two months of both Twitter data and mobile phone data from Milan, from November 1 to December 31, 2013.
They identified mobile phone activity and tweets originating from Milan's football stadium San Siro, and found that the size of spikes in mobile phone usage and Twitter usage during the matches strongly correlated with the official attendance figures for each match.
In the original study, the scientists exploited the access they had to data recorded directly by the mobile phone network provider and found that using data on mobile phone internet activity, they were able to generate estimates of the number of attendees which fell within 13 per cent of the reported value.
Dr Moat added: "There are various challenges in drawing on social media and mobile phone datasets to estimate crowd size, including questions about demographics and network accessibility. Nevertheless, our work to date suggests that these datasets can give us useful insights into the size of a crowd."
The original paper can be found here.
Both Tobias Preis and Suzy Moat teach Behavioural Sciences for the Manager on the Executive MBA. They also teach Big Data Analytics on the MSc Finance and MSc Business suite of Postgraduate programmes.
Preis and Moat are also Faculty Fellows at the Alan Turing Institute, the UK's national institute for data science.