Andrew Hill reveals Ruskin's lessons for industry 4.0
12 November 2018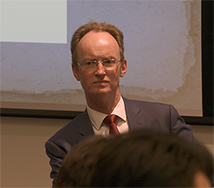 Latest Distinguished Lecture Series sees Andrew Hill talk on John Ruskin
The Financial Times journalist reveals links to fourth industrial revolution
Ruskin's experience warns of what is to come in new digital world
The social thinker also gives guidance on how to navigate today's issues
Financial Times management editor Andrew Hill told an audience at Warwick Business School how Victorian intellectual John Ruskin's writing provides valuable lessons for today's burgeoning fourth industrial revolution.
Speaking as part of the Distinguished Lecture Series at Warwick Business School's base at The Shard in London, Mr Hill revealed how Ruskin's doctrine that work should be meaningful and improve employees' wellbeing is just as relevant now as it was when he wrote Unto This Last in 1860 during the second industrial revolution.
Mr Hill, whose book on the art critic and social thinker entitled Ruskinland is due to be published in February 2019, said: "Ruskin railed against the 19th century equivalent of automation and spoke about how rich, in every sense, Britain would be if it aimed instead to manufacture souls of good quality.
"But the types of machines he would have abhorred are now potentially a key to realising some of our ambitions for more meaningful work for more people, by helping to free time and capacity for employees to be more productive and more fulfilled."
Ruskin was a fierce critic of the industrialisation of Victorian Britain and the theories of laissez-faire economics espoused by the likes of Adam Smith that underpinned it, calling for business to instead consider the dignity of workers, citizenship and a sense of community.
There are fears the fourth industrial revolution - which represents the convergence of artificial intelligence, machine learning, virtual and augmented reality, 3D printing and the internet of things into still unimagined new products, services and even industries - will cause similar problems, with millions predicted to lose their jobs.
"During the transformational period of the second industrial revolution, plenty of workers suffered mentally, physically and financially," said Mr Hill. "Then, as now, an assumption was made that they would adapt to new ways of working, but plenty could not or did not.
"We now stand at a point where we can choose to use technology in ways that play to our human strengths at work, and divert away from making the same mistakes that owners of human capital made in the late 19th century, as they scrambled greedily to make use of the new technology available to them.
What lessons does John Ruskin have for the fourth industrial revolution?
"Some of the solutions will have to be new technology and some will have to be regulatory and government-led, but plenty are essentially the same problems dressed in new clothes.
"It is as true now as it was in 1865, that by seeking out meaning in our work and giving ourselves the time and space to use our human capabilities, we can unleash new opportunities and perhaps transform ourselves and our colleagues into productive, happy workers."
Mr Hill revealed Ruskin held drawing classes for workers "not to make a carpenter an artist, but to make him happier as a carpenter". Ruskin believed work should make the most of human capital, embracing and encouraging curiosity, imagination, intuition, creativity and empathy.
Mr Hill added: "There are parallels with today's inequality and the excesses of executive pay with Ruskin's concerns over the true role of honest merchants. He argued work was worthless, even dangerous, unless it was imbued with meaning. He believed workers required sufficient education to use their human capabilities and room to exercise them.
"I saw something similar when I visited the Michelin tyre factory in France to find out about the empowerment of their frontline. The initiative puts an end to command and obey, with line managers stepping back and acting more as coaches, and if necessary, referees in frontline teams.
"It is now being rolled out worldwide, as Michelin found workers were happier having more independence and could use their imagination to improve their environment."
Maja Korica, Associate Professor of Management and Organisation, hosted the Distinguished Lecture as the series' academic director and has warned a robot tax may be the only answer to the fourth industrial revolution.
She said: "Ruskin gives us valuable insights and lessons as we enter the fourth industrial revolution, encouraging us to think in more nuanced ways about the meaning of work beyond labour alone. Andrew has done a terrific job at investigating one of the Victorian age's most prescient thinkers, to bring such insights to light for all our benefit.
"As a writer, Andrew is superb at showing the human side of leadership and organisations. In his work at the Financial Times, he continues to uniquely bring in contrarian voices and unearth interesting stories, showing great appreciation of history and its continued relevance to our present day condition. We were honoured to have him join our series."