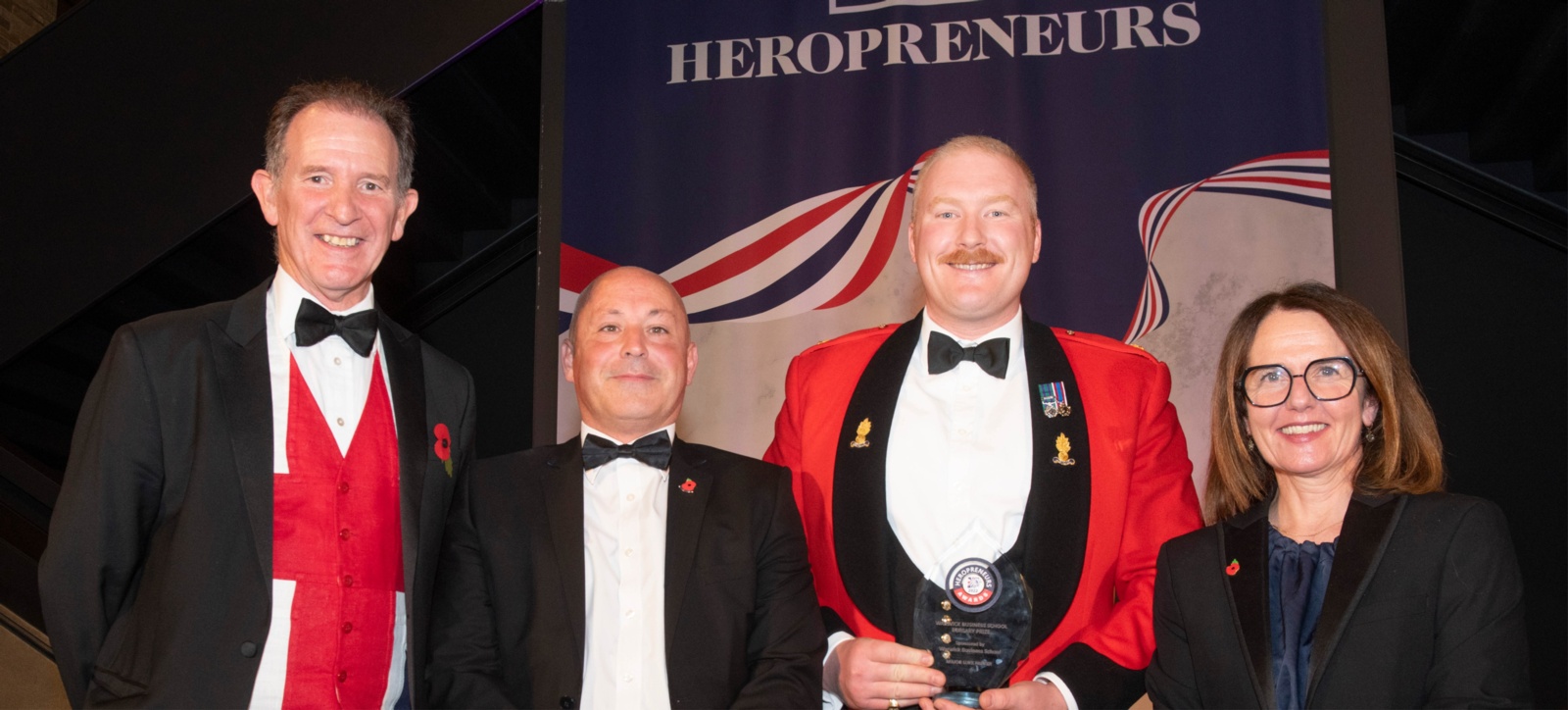 (l-r): Heropreneurs host Stuart Rock, WBS Dean Andy Lockett, winner Major Luke Parker and BBC presenter Fi Glover
An Army Major who was at the centre of the UK Government's COVID-19 emergency response has won a 100 per cent bursary to study for an MBA at Warwick Business School.
Major Luke Parker led several teams in the UK Government's Joint Biosecurity Centre (JBC), which was set up at the start of the pandemic and whose recommendations on the spread of COVID-19 and its causes directly influenced the policies of Chief Medical Officer Chris Whitty and Health Secretary Matt Hancock.
Now Geospatial Data and Analytics Officer at the NATO Allied Rapid Reaction Corps in Gloucester, Luke is celebrating after winning the chance to do an Executive MBA at WBS - which usually costs £56,900 - for free at the Heropreneurs Awards at the Imperial War Museum in London.
Luke said: "I was privileged to lead such a skilled team of data and analytics experts from both the military and within the Government. The national crisis served as our 'unity of purpose', we had a singular drive to collate the wealth of datasets available and turn them into actionable insights to enable senior leaders to make decisions."
WBS has partnered with Heropreneurs, a charity that supports ex-military personnel set up their own business, to offer those leaving the forces the chance to learn the tools and knowledge needed to manage an organisation with an MBA.
Three runners-up also secured considerable scholarships to undertake an MBA: Katie Muldoon, a former RAF Officer who served in Afghanistan and Syria before setting up her own consultancy focused on leadership and executive coaching, is beginning the Distance Learning MBA (London) in January; Sasha Kirkham, an Army Captain who is currently serving as a Logistics Advisor to the Special Operations Joint Task Force in Iraq, will join the Executive MBA at WBS London at The Shard in March; and Army Officer Tristan Burwell, who has recently returned to the UK following working as British Liaison and Crisis Planning Officer in an allied operation in Italy, is starting the Distance Learning MBA at Warwick in January.
Luke said: "This is a phenomenal opportunity that WBS and Heropreneurs have given me - I am truly honoured. There was a strong field of contenders that demonstrates the exceptional talent the military has to offer. I have little doubt that the skills taught to me by WBS will be invaluable as I transition from the military into the technology industry."
When the pandemic hit the UK, Luke was working as Operations Lead at the National Centre for Geospatial Intelligence at RAF Wyton, but was seconded to the UK's JBC as the country raced to get COVID-19 under control in 2020.
"It was our job to determine where the concentrations of COVID were around the country and what that meant for risk," said Luke, who joined the Royal Engineers' Bomb Disposal Regiment from the Royal Military Academy in Sandhurst in 2013, being deployed to Norway, Jordan, and Pakistan.
"The key analysis my team and I produced were weekly recommendations on which areas of England were showing growth in COVID-19, which allowed Chris Whitty and Matt Hancock to determine the areas they would cycle through various levels of COVID-19 restrictions.
"We were able to create valuable insights from the wealth of datasets we had acquired, such as health data from Public Health England and the NHS, mobility data, and even waste water-based epidemiology. These insights influenced the nations testing strategy and restrictions."
Luke's work in the pandemic led to him being named in the 2022 Data IQ 100, an annual list of the most influential people in data analytics in the UK by the data science training company.
"That was a great honour and opened a lot of doors to networking and development for me," said Luke, who had a spell as Senior Technical Officer, Mapping and Charting Establishment, in Ottawa supporting the Canadian Forces Intelligences Command before returning to the UK.
"It gave me a whole new network that allowed me to talk to Chief Data Officers from FTSE 100 companies in a very relaxed setting, which has been really eye opening.
"Data science and data analytics are becoming more and more important for every organisation and an MBA will broaden my knowledge and experience with business, so I will be a much more rounded individual. It is going to be a great experience and I can't wait to get started."