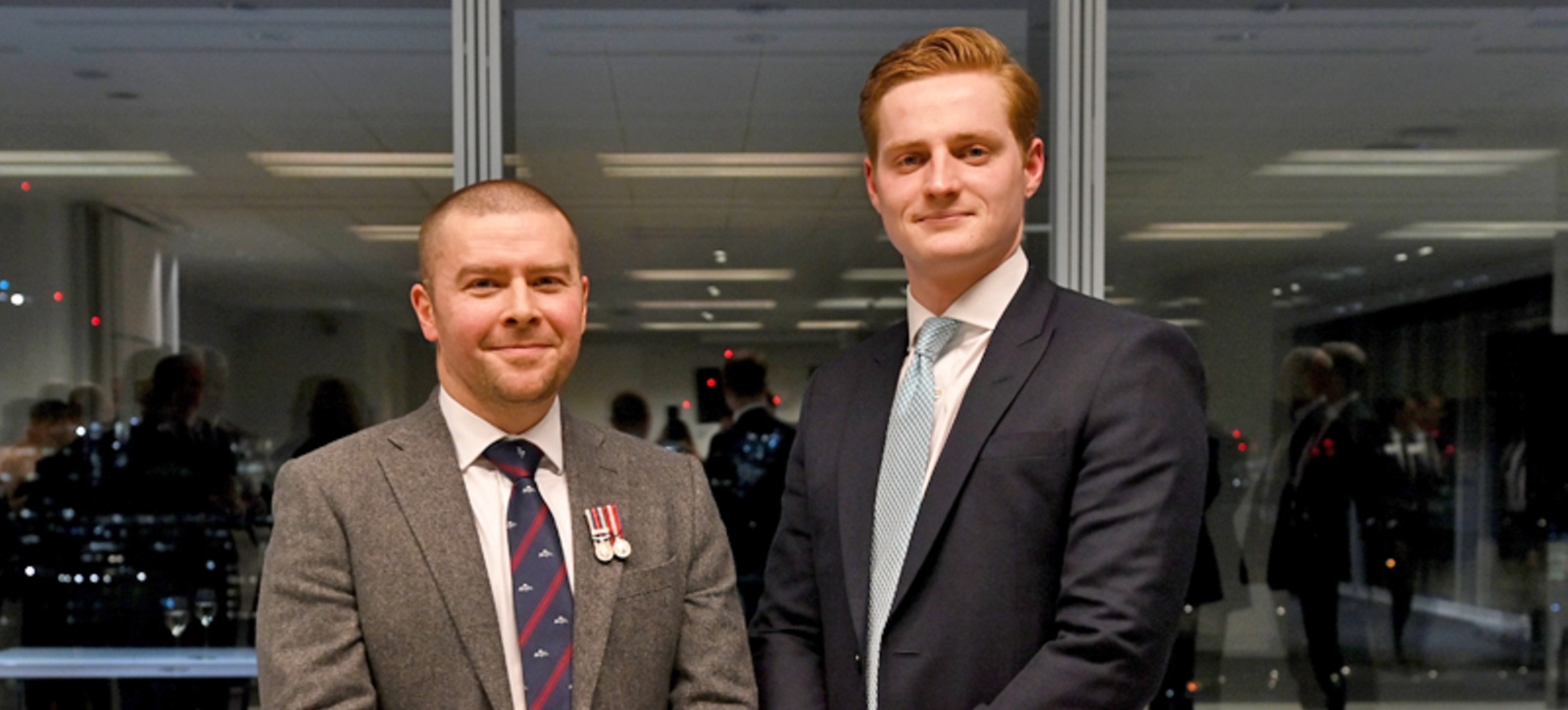 Former officer Jake Ardley wins full scholarship for an Executive MBA
Ex-Captain John Lodge secures a place on Diploma in Strategy & Innovation
Jake was part of UK military logistics supplying PPE during pandemic
Start-up Hexitime was launched by John to help over-stretched NHS
Two British Army veterans have won scholarships at Warwick Business School worth thousands of pounds at the annual Heropreneurs awards.
John Lodge, who served as an Officer in the British Army, won a place on the Warwick Executive Diploma in Strategy & Innovation thanks to a 100 per cent bursary worth £18,000, while Jake Ardley will be studying for an Executive MBA, after winning a full scholarship for the two-year part-time course that normally costs £48,935.
Heropreneurs was established more than a decade ago to support veterans and their spouses create their own business through a mentoring programme. It is the third year WBS has supported the charity, offering start-up owners the chance to build their knowledge with an MBA and, for the first time this year, a diploma.
The Heropreneurs Award ceremony, which saw prizes for companies ranging from Start-up Business of the Year (in partnership with BCA) to Entrepreneur of the Year (in partnership with Goldman Sachs), was held at WBS London at The Shard.
It saw John win another two gongs for his start-up Hexitime by claiming Technology Business of the Year (supported by Amazon Web Services and TechVets) and Sustainable Business of the Year (in partnership with Atkins Global).
John, who founded Hexitime in 2018 with consultant paediatrician Hesham Abdalla, said: "I'm delighted and really grateful to have been awarded a full scholarship at WBS to complete an Warwick Executive Diploma in Strategy & Innovation.
"Now halfway through the course, I am applying the learning directly in my role as co-founder of Hexitime, which is giving us the best possible chance of success. I am finding the course very useful and I'm surrounded by excellent colleagues. I really recommend the programme."
John joined the forces in 2004 as part of the Honourable Artillery Company, before becoming a Troop Commander with 9 Parachute Squadron Royal Engineers, leading troops in Kenya and Afghanistan in 2010. After serving as a Captain at the Royal School of Military Engineering, John left the Army to become an NHS Manager at the Royal Berkshire NHS Foundation Trust in 2012 and has been working in the UK's National Health Service (NHS) ever since.
Winners: (l-r) James Hayton, WBS Pro-Dean (External Affairs), John Lodge, Karen Barker, WBS Director of Recruitment & Marketing, Jake Ardley
He is now Head of Quality Improvement (London Region) at NHS England, but has found time to set up the innovative start-up Hexitime, a timebank to help the over-stretched NHS workforce improve its services and support each other.
Hexitime is an online platform that allows workers in the NHS to exchange their skills with colleagues and collaborators across the country in exchange for time, which they can then bank and use to buy expertise when they need it.
"In the military I deeply understood the skillset of all my staff. I led a platoon of about 30 guys and I knew I could solve a problem with the right people, with the right skills, for the job," said the 35 year-old. "When I joined the NHS I realised we managers didn't have that knowledge. When we were looking at complicated healthcare problems, we just didn't know what skillsets we really had right under our noses.
"So we wanted democractise skill-sharing and bring all the skills of thousands of people to problems in the moment. Hexitime is a mechanism to find them or offer to help by exchanging skills around the NHS."
Jake left the Army in November 2021 after being part of the UK's emergency response to COVID-19 when the first wave hit the country. He had to quickly pack his bags after being selected from a brigade of more than 50 captains to support the NHS PPE logistics operation, organising the delivery of vital safety equipment for doctors and nurses across the country.
"It was most challenging thing I have ever done," said the 27 year-old. "I was totally outside of my comfort zone; setting up a comprehensive civilian supply chain at pace and scale in just two weeks."
After training at Sandhurst, Jake, who gave up being a drummer in heavy metal act The Lost Legion to join the Army, moved into the Royal Logistic Corps (RLC) as Troop Commander. It saw him lead a platoon on exercises in Canada and spend two months guarding the Royal Family at Buckingham Palace.
Jake was awarded The Worshipful Company of Carmen's Sword of Honour, as the best RLC officer of 2018. This was in part due to organising a celebration of the 25th anniversary of the RLC by climbing the 25 tallest peaks in the Lake District over a week.
"I selected one person from the 25 regiments to do it," said Jake. "We were so keen we climbed eight mountains on the first day. We were knackered by the end, but managed to do them all despite having to abandon one day's climb because of bad weather and contending with one of the hottest bank holidays ever."
Jake has now started as Regional Manager at Hermes, but has ambitions of running his own logistics company and believes an MBA will help him gain the skills and knowledge to achieve it.
"I have a very supportive team at Hermes," said Jake. "They are fully behind me doing an MBA and learning more about the company's strategy. I will also be able to apply what I am learning on the MBA to my role, and this, alongside learning more about Hermes, will help me in setting up my own business.
"It is an exciting time for me. Winning this scholarship is an amazing opportunity and I can't wait to get started on the MBA."