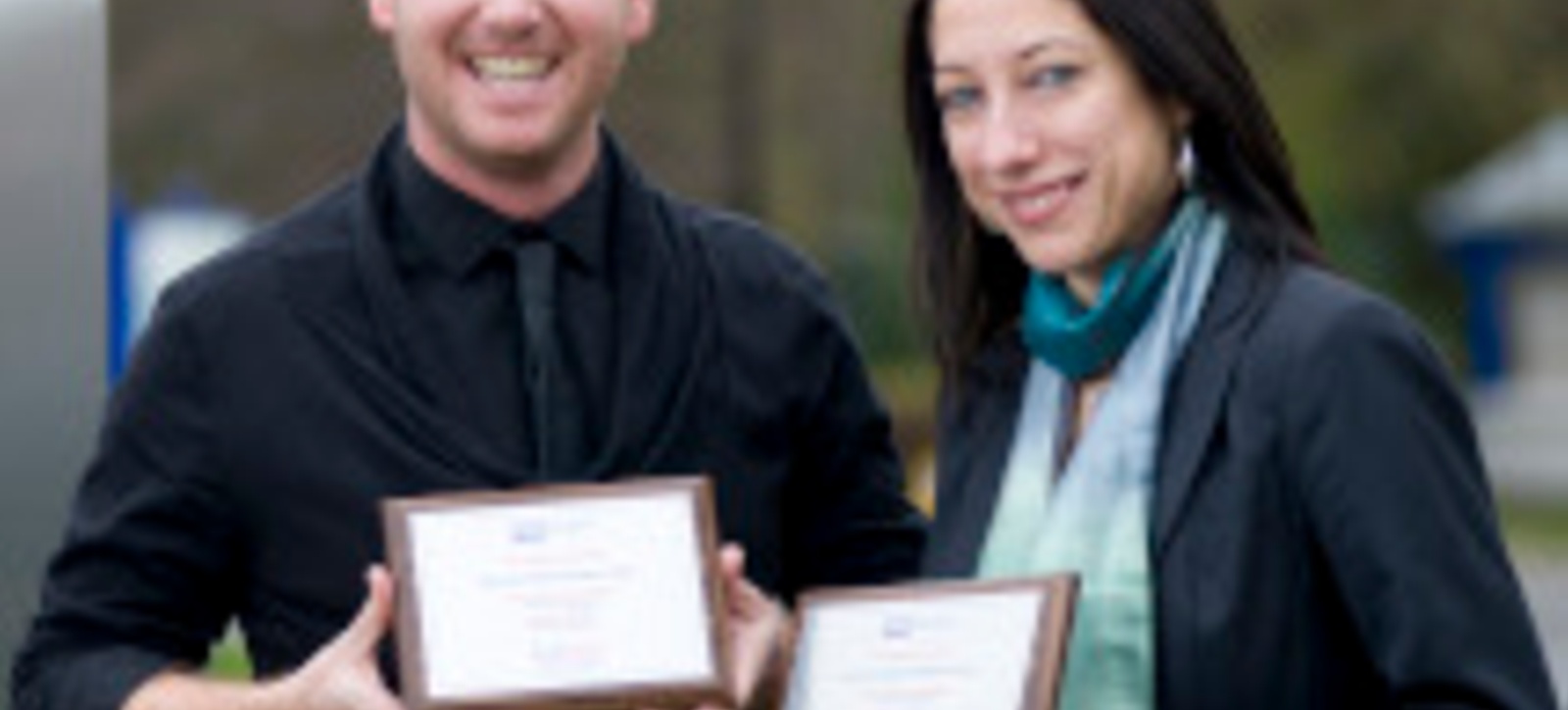 Ashley Roberts and Ioanna Iordanou are celebrating after not only winning a prestigious award but receiving great acclaim for their presentation at Harvard University which could lead to a new link-up with the acclaimed US establishment.
Their paper, 'Beethoven and BAMboo': The Impact of Arts-based Methodologies in Higher Education Management Learning', won the best Developmental Paper in the Knowledge and Learning stream at the 27th annual British Academy of Management (BAM) conference held at Liverpool.
They then jetted to the US to present their work at the international Coaching in Leadership and Healthcare conference at Harvard Medical School, and discussed their research at a number of other universities in Boston, Massachusetts.
"The BAM conference was a great opportunity to showcase our work and engage researchers," said Mr Roberts, who is Assistant Dean for Creativity at WBS. "We also received fantastic feedback from our paper at Harvard, who were very interested in how we are using creativity, be it drama, music, poetry or dance, in our teaching at WBS.
"Winning a best paper award is a great honour and something we are very proud of. Given the creative nature of our paper, it demonstrates the appetite for innovative pedagogical research in our scholarly community."
More than 800 delegates attended the three-day BAM conference, which brings together the country's pre-eminent academics in management. BAM has been dedicated to representing and developing the community of management academics since 1986 and runs two successful journals.
The positive feedback gained from the BAM and Harvard presentations is leading to two journal paper submissions from the pair and has also led to a potentially interesting link-up with Harvard University.
Mr Roberts and Dr Iordanou's paper investigated the effect of arts-based teaching at a business school. Specifically, their work draws on the discipline of music in order to better understand and explain contemporary leadership and team dynamics.
"This was about experiential learning and contributes to our mission of producing world-class and socially responsible creative leaders at WBS," said Dr Iordanou, a Teaching Fellow at WBS Create. "The students welcomed the allocated reflection time during the lecture saying that it allowed for more debate and discussion compared to a traditional lecture format. According to them it was a more memorable learning experience. The paper demonstrates the merits of experiential learning and creative involvement which is already practised at WBS."
Ashley Roberts teaches Organisational Behaviour on the Warwick Executive MBA and Warwick MBA by distance learning plus Organisational Analysis on MSc Information Systems Management & Innovation. He also teaches Management, Organisation and Society, Understanding Organisational Behaviour, Changing Organisations, Styles of Coaching and Team Leadership and Business Studies on Warwick Business School's Undergraduate courses.