Bank of England forecast underplays uncertainties
18 May 2015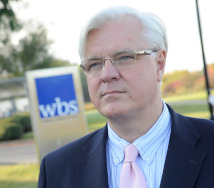 Mark Taylor, Dean of Warwick Business School, believes that in spite of optimism from the latest Bank of England inflation report, the UK still has a lot to do in order to restore confidence in business.
Professor Taylor points to plummeting figures of productivity coupled with disappointing living standards and a lack of real business investment growth as some of the factors highlighting the true state of the UK economy.
He said: "The Bank's revised economic forecasts paint a far from gloomy picture of the UK economy: growth is still predicted to be above 2.5 per cent or more for the next three years, inflation is flat, the cost of borrowing is at an all-time low and unemployment is at its lowest level for several years.
"But with productivity – total output for every hour worked – 17 per cent below where it would be if we had maintained pre-financial crisis trends, living standards on average are still a long way below where they should be.
"The failure of productivity growth to pick up reflects underlying uncertainties in the economy. The massive policy uncertainties surrounding the outcome of the recent UK General Election depressed investment in the second half of 2014."
Mark Carney, Governor of the Bank of England, presented the Bank of England's quarterly assessment of the UK economy, with bank policymakers forced to revise down forecasts for UK growth to 2.5 per cent this year and 2.6 per cent in 2016, somewhat below the estimated 2.9 per cent for both years' originally envisioned.
However, Professor Taylor questioned the Bank of England's suggestion that business investment intentions were now strengthening.
"While the Bank of England's research suggests that UK firms' investment intentions are now strengthening, this has yet to materialise in strong and sustained business investment growth," said Professor Taylor. "In my view, the Bank is underplaying the considerable uncertainty still present within the business environment and its effect on business investment.
"Half of our trade is with the rest of Europe, perhaps a concern given the a patchy recovery across continental Europe, the very real potential of a Greek exit from the euro zone and an upcoming UK referendum on whether we should stay in the European Union at all.
"Many firms will be biding their time rather than spending a large amount of money on capital equipment that may lie idle when European order books run thin, no matter how cheap it is to borrow for investment.
"It's much cheaper and far less risky simply to take on extra workers to increase short-term output.
"Until those uncertainties are behind us and business confidence is restored, investment will remain depressed, productivity will fail to pick up and average UK living standards will still be depressed."
Mark Taylor is a Professor of Finance, find out more about our MSc Finance, now being taught part-time at WBS London, and MSc Finance & Economics courses.