BBC's The Human Zoo delves into our irrational side
01 July 2013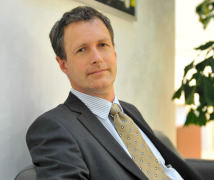 Professor Nick Chater will lead listeners into a journey of the mind when The Human Zoo returns to BBC Radio 4 on Tuesday.
In a second series of The Human Zoo the Warwick Business School Professor of Behavioural Science will join presenter Michael Blastland in an exploration of just how and why we behave in sometimes seemingly irrational ways.
Over four episodes The Human Zoo will delve into the nature of bias, judgement and decision-making, while listeners can take part in online experiments at Warwick Business School's online lab.
In the first episode on Tuesday July 2 Professor Chater, who is part of the Government's Behavioural Insights Team, or Nudge Unit as it is commonly known, will look at climate change and the psychology of believers and non-believers.
Professor Chater said: "This series is a great chance to explain the complex processes and sometimes irrational thinking that goes into our decision-making. The crash of 2008 has seen many economic models ripped up and an increasing focus on behavioural science to explain the sometimes irrational human decision-making and thinking that impact on the world of business and finance.
"Behavioural science is having more and more of a role to play in helping businesses and Governments to interact with people and providing insights in improving everyday life.
"Coming from a behavioural science background the programme will look at how we reason and the subtle influences that lead us to some decisions that go against logic and against economic theory.
"The online experiments at The Human Zoo website give listeners a chance to explore their own decision-making, and will hopefully give us some fascinating results and talking points."
The first series revealed how women being able to multi-task is a myth; how company boards often suffer from the tyranny of groupthink, how the 'status quo' bias affects the take-up of bowel cancer screenings, how variety is not the spice of life and the 'winner's curse' in bidding wars.
Professor Chater heads Warwick Business School's Behavioural Science Group, which pools top brains from the world of psychology, economics, mathematics, statistics and physics to bring new thinking on decision-making, strategy, finance and marketing to the business world.
"We look at how individuals really form judgements about the world and how they make decisions," said Professor Chater.
"This will be fully explored in the programme and hopefully we will show in an entertaining way just how emotion and instinct play as big a part in our decisions as cool logic."
Listeners will be able to follow the programme via the BBC Radio 4 website and find further information about some of the experiments at Warwick Business School's online lab.
The Human Zoo starts on BBC Radio Four on Tuesday July 2 at 3.30pm.
Watch Professor Nick Chater explain how behavioural science can help the world of economics and finance here.
Behavioural science is at the core of the Warwick MBA by full-time study. Professor Nick Chater also teaches Behavioural Sciences for the Manager on the Warwick Executive MBA and Principles of Cognition on MSc Business (Behavioural Science).
Find our more about Behavioural Science by watching our film here.