Big Data set to revolutionize banking
06 August 2014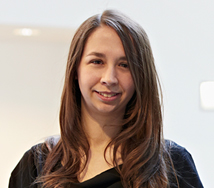 Assistant Professor Suzy Moat predicts that the Big Data revolution will change the way in which banks understand and anticipate consumer's needs.
In a discussion on 'Big Data and behavioural implications in financial services' at The 2014 Behavioural Finance Forums with Rob Toguri, a Partner at Ernst & Young, Dr Suzy Moat notes that our everyday interactions with technology are creating large data sources with the potential to help banks and other large institutions better forecast market changes and customise the services they offer.
Dr Moat suggests that humans are themselves "walking prediction machines", able to identify repeating patterns of behaviour, and use these patterns to better anticipate what others might do in the future. "Decision making is all about making predictions. For example, we know that our friends and colleagues have personalities. That's essentially just us recognising that they repeat the same kind of behaviour over and over again.
"What Big Data offers us is the potential to measure these repeating patterns in behaviour at a scale we couldn't before, tracking people's behaviour across a wide range of areas. This opens up the possibility to spot more subtle, widespread predictive patterns using intelligent algorithms."
Dr Suzy Moat is Assistant Professor of Behavioural Science at Warwick Business School, where she teaches Behavioural Sciences for the Manager on the Warwick Executive MBA plus Big Data Analytics on the MSc Finance, MSc Finance part-time London, MSc Finance and Economics, MSc Financial Economics,MSc Business (Consulting), MSc Business (Finance & Accounting), MSc Business (Marketing) and MSc Business (Analytics).