BIP allows students to explore business skills
20 September 2016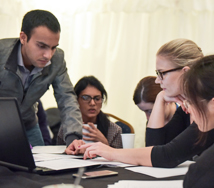 Business in Practice (BIP) module praised by inaugural students
The BIP module is an alternative to a typical dissertation route
The optional part of the MSc Business suite focuses on practical skills
This includes leadership and soft skills and a business simulation exercise
The inaugural group of students who took the Business in Practice (BIP) module have praised the new route of study as excellent preparation for life after university.
BIP offers MSc Business students across the streams of Consulting, Accounting & Finance, Financial Management and Marketing an alternative way to approach their study outside of the usual method of completing an 8,000 dissertation at the end of the one-year course for those not intending to do a PhD.
BIP, which is compulsorily for MSc International Business students, gives a more practical route where the theory learnt can be applied to the business world.
"I found the BIP workshop to be an excellent alternative to a dissertation," said Benjamin Ayuba, an MSc Business (Consulting) alumnus. "It provided an academically stimulating environment, where myself and fellow students debated and provided our own perspectives on various contemporary topics.
"These debates allowed us to explore alternative lines of argument, exposing me to various opinions based on my colleagues' cultures and experiences. BIP provided the means for me to explore my current goals and, through expertly informed workshops about aspects of leadership and cultural awareness, challenged me to examine myself and plan how to improve my future career prospects.
"As a practical route, BIP and the company analysis assignment enabled me to challenge the academic literature with real-life examples, bridging the gap between theory and practice and excellently preparing me for life after university."
The BIP module's focus on soft skills was a particular highlight for Fangyi Qian, an MSc International Business student.
"BIP was different from all the previous modules I have taken," said Fangyi. "It guided us to explore different areas of the business world by including presenters from different sectors and different business functions
"The workshops were focused on soft skills. I believe soft skills are crucial, but often ignored by people who are just about to start their career. This module gave us a chance to get to know soft skills and start to develop them."
BIP allows students to develop further applied skills and specialist knowledge to suit their career aspirations, as they take two additional elective modules as well as BIP.
The module includes lectures, professional skills and leadership training, plus cultural and commercial awareness, while there are also business simulation exercises.
This academic year the BIP assessment is in two parts: a reflective journal where students write about what they learned in the module, and a company analysis using the academic skills they learned in the course.
Fangyi added: "I found the reflective journal, the assessment of this module, the most helpful. By writing this it made me rethink my mission and vision one more time and make everything even clearer. It is a good habit that could be beneficial for my whole life."
"The time management skills and learning about different cultures were great for our long-term career development," said Jie Cui, an MSc Business (Marketing) graduate.
"The firm analysis essay gave us a wide range of companies and themes to choose from. It served my personal interests and strengths, so was another big reason the BIP appealed to me."
Sotirios Paroutis, Academic Course lead on the BIP module, said: "This is a cutting edge module, developed in close collaboration between faculty, our dedicated CareersPlus team, external careers consultants and simulations experts.
"It provides our participants with a unique combination of soft skills and business insight. Those students who choose to undertake an internship have been able to use their company for the basis of the company analysis assignment.
"In its first year, the module has exceeded our expectations in student uptake and marked a number of firsts in the history of WBS: the largest live simulation, the most extensive collaboration between faculty and careers services, and the widest participation for a new module."