Bletchley Park and After
03 July 2012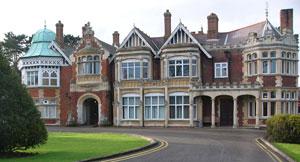 Join us in listening to three fabulous speakers as they explore Bletchley Park and its legacy.
Imagine a world where the Nazis won WWII and computers had never been invented... and then thank Bletchley Park for its codebreaking efforts and its legacy.
Chris Grey, WBS Professor of Organisational Behaviour, who has recently published his book Decoding Organization: Bletchley Park, Codebreaking and Organization Studies explores how Bletchley Park was made as an organisation.
What was its culture and how was its work co-ordinated? Challenging many popular perceptions Chris examines the complexities of how 10,000 people were brought together in complete secrecy and yet worked as a team. Listen to Chris Grey's podcast as he explores the legacy of Bletchley Park.
Our second talk is by Michael Smith who is an award-winning journalist and number one best-selling author. Michael is a member of the board of the Bletchley Park Trust and an expert on codebreaking, espionage and how spies operate.
Listen as Michael talks on Bletchley Park, The Secrets of Station X: How the Bletchley Park Codebreakers Helped Win the War.
Last but certainly not least Listen to Richard Aldrich, Professor of International Security at the University of Warwick who is an expert in the technology of secrecy - particularly secure communications. Richard talks about what happened to Bletchley Park after the end of the Second World War and how it transformed into GCHQ: The Uncensored Story of Britain's Most Secret Intelligence Agency.

Podcasts

See more:
http://www2.warwick.ac.uk/knowledge/culture/chrisgrey