Careers advice: How to Approach an Employer
30 March 2017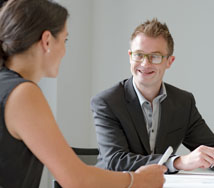 Lisa Carr of the WBS Alumni Careers team offers some guidance on the best ways to approach a potential employer.
Many of you following our Career Management course will by now have a clearer idea of what you want in your next job and which target companies to approach (For those not already doing so, there is still time, simply follow the link). That is the easy part.
We are often asked in WBS Careers 'How do I find opportunities in those firms?' and 'How do I impress the right people in order to get hired?'. Here are our tips for success:
Do Your Homework
Your best chance of success is to show that your experience is a perfect match for this particular organisation. The amount of research a candidate has done is a key way for employers to distinguish serious candidates from timewasters.
There is a Guide to Researching Employers in this month's 'Gathering Information' lesson including Marketline where you can access detailed company and sector reports (free to WBS alumni). Don't just research the company itself; look at its competitors and its wider market. And don't forget to check out the career histories and interests of key staff on LinkedIn.
Use Information Interviews
To get a real handle on the company you need to speak to someone who works there, ideally in the same type of job role.
You may already have connections on LinkedIn. But don't worry if not. Use the WBS Directory to search alumni by company, sector or geography.
Send your contact a brief email asking if they can spare fifteen minutes for a quick coffee or call, explaining you are exploring a potential career move. Say that you would love to learn more about what they do and what is happening in their company. Most alumni are happy to oblige as they may learn something from you too.
Aim for someone at a similar level in their career and do not send a CV at this stage.
Use your information interview to find out about new opportunities, company culture, typical routes in, challenges faced by the firm and where someone with your experience might fit in.
Get a Referral
The primary purpose of an information interview is to find out more about opportunities at the firm and research for interviews.
If you are lucky, you may get a referral to a decision maker who is in a position to hire you.
How do you get an introduction? As you are closing your information interview ask 'Is there anyone else you think I should speak to who could tell me more about opportunities in this area?' or 'Who should I speak to if I want to formally apply for a role/for a contract with your firm?', usually they will put you in direct contact.
Avoid being routed to HR or agencies as the decision makers are most often found in the line.
Plan Your Pitch
Before you approach an employer speculatively or apply for an advertised job it is crucial that you have a good answer to the unspoken question 'Why should we hire you?'.
Based on your research and after checking the company's job adverts, you should have a clear idea of the skills and experience they value.
Consider the particular blend of experience, skills and interests you can offer. Think about what makes you distinctive from other applicants. Have a clear message to deliver in informal discussions.
Tailor Your Profile
As soon as you make contact, your connection is likely to look you up on LinkedIn. Be prepared.
Ensure your Headline and Summary is in line with your pitch. Think about how you define yourself professionally and the most relevant experience to highlight.
Tweak your profile beforehand but remember to turn off notifications to your existing connections. Don't forget to tailor your CV ready for the referral stage.
Know Your Value
Many people are nervous about approaching potential employers in case they appear desperate for a job or become a nuisance. Nothing could be further from the truth.
It is the highest performers, confident in their abilities and goals, who tend to be most proactive in reaching out.
And employers welcome approaches from well qualified and motivated candidates – most are relieved not to have to advertise an opening. Be confident that you are offering a solution to a business need – a win-win for all concerned.