Careers advice: Ten tips for successful career planning
31 January 2017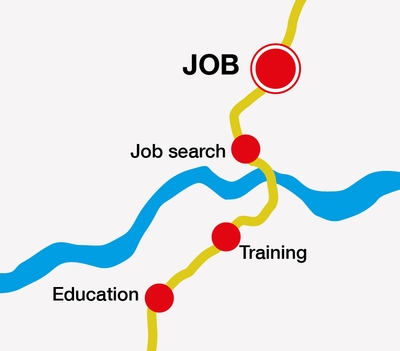 As we launch this month's lesson Mapping Your Career Landscape on the new WBS online Career Management Module WBS Alumni Manager Lisa Carr discusses the need for flexibility in planning your career in today's job market.
We are taught from an early age that successful careers are the result of planning. At school and University, we are urged to analyse our key strengths and motivations, research the job market and find the perfect match before embarking on a structured career path.
Organisations develop competency frameworks and succession plans to track our progress and ask us at interview about our ten-year career plans. How far is this plan-and-implement model still possible or even relevant in the context of today's fast moving business world and job market?
We all know that the majority of jobs (over 70% in the UK) are filled through networking and internal referral rather than via the open job market.
And when employers do advertise jobs, recruiters are as likely to find you on LinkedIn as you are to apply directly to them.
Being in the right place at the right time may count for more in today's job market than any strategic planning. In fact, the careers community even have a theory for this - Careers Happenstance.
So should you just wait for fate to take its course and for luck to strike? If you never know when you are going to get that tap on the shoulder and if you cannot yet spot your next job role it can be hard to maintain motivation and to feel in charge of your own career.
Fortunately, there is a lot you can do to proactively prepare for and help create your next career opportunity in an uncertain world. Here are my top ten items to focus on:
Be clear about what type of activities, environment and business challenges most interest you. This will enable you to spot a great opportunity when it comes along (and avoid career dead ends).
Reflect on your strengths, achievements and expertise, as a clear message will help you pitch for the best opportunities. There are self-assessment activities in our new Careers Management Module that will guide you through this process.
Identify potential career routes and interesting sectors so you can focus your networking efforts and develop the right skills and experience– whilst keeping an eye out for unexpected opportunities. You have a finite amount of time to research careers, network and job-hunt. Focusing on areas of interest will enable you to use your time and energies wisely. The careers lesson on Mapping Your Career Landscape will help here.
Ensure you are in the right pond when employers and clients come to fish. Join the networks, opt into the projects and work with the organisations and people who are most likely to open doors - even if you don't know what those precise opportunities look like yet.
Reach out to contacts in interesting job roles or companies to build your network proactively and explore career options at your own pace.
The 2 Hour Job search technique outlined in our Careers Management Course is a very practical and structured way of doing this. You can find fellow WBS alumni in jobs and organisations of interest on the WBS Directory and through Warwick Networks.
Have a clear story to tell about your career so far, your key achievements and interests which you can deliver informally and adapt to your audience.
Keep your LinkedIn Profile and CV up to date in case of unexpected opportunities. If you meet a contact at work or at a networking event, chances are they will look you up on LinkedIn straight away. An out-of-date or poor quality Profile reflects badly on you. Get feedback on your CV or LinkedIn Profile from the WBS alumni careers team.
Follow up with a quick thank you / nice to meet you email or LinkedIn connection request when you meet someone whose career interests you or who you might like to work with in future.
Make sure you are registered with the right recruitment agencies if you plan to continue working in your current sector or job role.
Above all, don't wait until you need a job before you start thinking about potential career moves or updating your marketing materials. Being proactive but flexible about how you explore new opportunities will put you back in the driving seat.