CBI's Carolyn Fairbairn warns of Brexit cliff edge
20 December 2016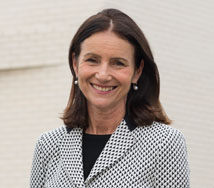 Carolyn Fairbairn warns the UK needs to avoid Brexit cliff edge
CBI Director General discussed business and local growth post-Brexit
She highlighted the productivity challenge facing the UK
Ms Fairbairn unveiled a plaque to mark the opening of the WBS extension
Carolyn Fairbairn, Director General of Confederation of British Industry (CBI), warned the UK needs to avoid falling off a "cliff edge" in 2019 post-Brexit.
She outlined real concern that there could be a sudden shift to the UK being stuck outside the EU when the two-year negotiation period ends in March 2019, with deals and agreements falling off a cliff and causing disruption for companies.
Speaking at Warwick Business School she also highlighted the need for close collaboration between businesses, politicians and universities to help local growth and productivity going forward.
"In 2016 there was extraordinary resilience following the referendum. Many businesses across the country did not want this outcome, but will adapt as they are pragmatic – I said this at the time and I absolutely still believe it, and that is what we have seen," said Ms Fairbairn "There is a 'can do, get on with it' attitude, which is an extraordinary testament to British business."
Ms Fairbairn was making the presentation on Brexit and local growth as part of the official opening of the £30 million WBS extension.
She suggested while the result of the referendum may have come as a surprise, for businesses, there have been a number of strong stories since the results: not least strong employment figures and unemployment still falling.
There has also been an increase in permanent positions compared to temporary jobs according to Ms Fairbairn, although skill shortages are a real and significant issue.
Ms Fairbairn suggested the CBI's members have highlighted four main concerns businesses face in a post-Brexit world:
Minimising uncertainties
Barrier-free access to EU markets
An immigration model recognising skills and shortages
Avoiding cliff edges
In particular, Ms Fairbairn said companies had really wanted things to be cleared up on a number of uncertainties post-Brexit.
"If they can tick off the list of concerns, then investment will be unlocked," she said. "Businesses want more certainty on a plan for leaving, after all, businesses are making these decisions now, not in two years."
Ms Fairbairn also pointed to the importance of barrier-free access to EU markets, which is something businesses want more clarification on.
She also acknowledged that firms will have to adapt in the face of changes to the labour market, with supplies of workers potentially closed off by Brexit, but ultimately Ms Fairbairn warned the UK has to avoid the "cliff edge" in 2019.
She said: "What happens in March 2019? Will aeroplanes crossing EU borders under the Open Skies Agreement no longer be clear to land, or toys no longer be compliant with health and safety regulations?
"There are some very practical issues on this matter; most trade deals include a period to help manage this."
Although Brexit presents challenges to UK businesses, Ms Fairbairn called on them to focus on what they can do now and how to improve productivity and local growth.
She added: "Productivity – it really matters for living standards, opportunities, the ability to invest in public services and the like and yet the UK is behind compared to other G7 countries. Take France, US, or Germany for example – the figures are hugely different, with the UK seeing 21 to 40 per cent less productivity per hour worked compared to these."
However, it is not only international differences that are apparent. CBI research, conducted with the Office for National Statistics and consultancy McKinsey, found significant productivity differences across 172 localities in the UK.
London leads the way, with the borough of Wandsworth's productivity 2.5 times that of Blackpool for example. In the West Midlands, Solihull is a third more productive than Wolverhampton, just 20 miles away – and living there you'll earn on average £5,000 less than someone in Solihull.
Ms Fairbairn sees four main drivers to boost productivity:
Education and skills
Transport links that expand labour markets
Management practices – major firms working with supply chains to spread best practice
More firms to export
The key area for Ms Fairbairn is education and skills, with the CBI Director suggesting there is a real opportunity to look at education at all levels from primary school to young adults.
"The appetite of business to work with schools and universities has never been greater," she said. "We want to facilitate this and get education providers and businesses working together to develop a consultative relationship on training and skills."