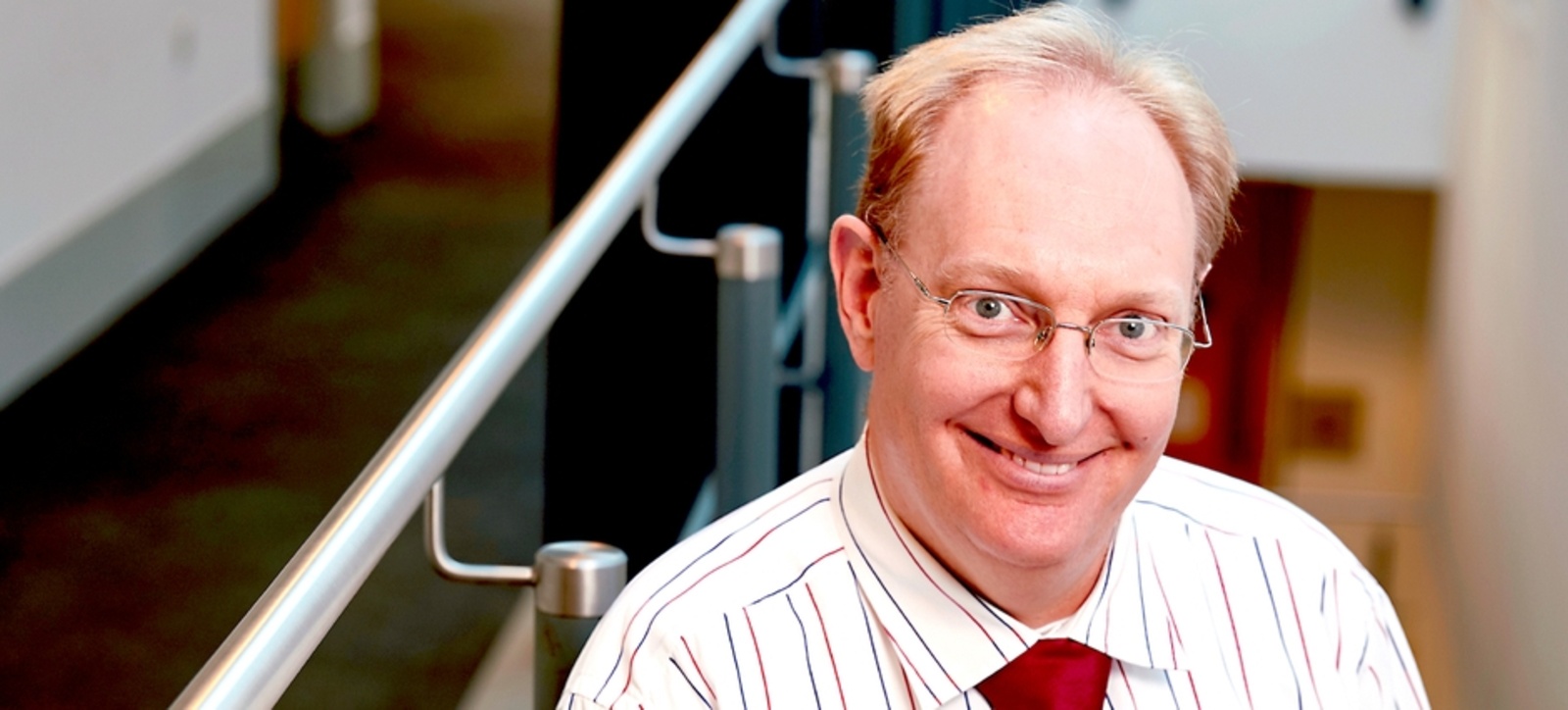 Nigel Driffield has helped bring £1 billion of investment to Birmingham
The academic has overcome dyslexia to become a world-leading researcher
Mass unemployment of 1980s inspired him to make help make a difference
The Professor sees economics as a force to improve people's lives
Growing up in Liverpool in the 1980s, Nigel Driffield still remembers the shockwaves of industrial strife.
"Every Friday on News at Ten there would be a UK map with little dots of light - the bigger the dot, the more people who'd lost their jobs there," says Professor Driffield. "It struck me then that these were ordinary people just trying to put food on the table. And that's what got me interested in economics - I was fascinated about how the economy had such an impact on people's lives."
Economists and politicians fall into two groups, he believes. "There are those who see unemployment as a number - such as inflation or interest rates - and those who see it as people lying awake at night worrying how to feed their children."
He's devoted his academic career to understanding the strategies of foreign investors, and the regions where they invest. He wouldn't class himself as a pure economist - his curiosity about local livelihoods and the impact of policies brings him into contact with political scientists, finance experts, geographers and sociologists as well international business experts. He adds: "Together we work on problems which are critical for development and prosperity."
Although he grew up in a professional family - his mother was a teacher, his father a tax inspector - he recalls the hand-to-mouth living of school friends during a time of lay-offs and unemployment.
"You'd go to school and there'd be empty spaces where friends had sat," he says. "You'd hear that their parents had suddenly had to up sticks and move across the country to chase a job."
Globalisation, he remembers, made its mark on Liverpool long before it became a buzzword of the 21st century, as Tate & Lyle and other major employers shut down in the city, to devastating effect. "Decisions that have an impact on ordinary people are made by people elsewhere - venture capitalists, even union leaders sat far away."
Some four decades later, he's now Professor of international business at Warwick Business School where he focuses on international investment. His other role as Deputy Pro Vice Chancellor for regional engagement brings him into collaborations with regional and international authorities. Over the course of his career, he's helped attract hefty sums of inward investment to the West Midlands, propelling Birmingham into the ranks of Europe's highest achieving cities for business investment, with a hand in creating thousands of jobs.
His research has helped Greater Birmingham attract record levels of inward investment from blue chip companies such as HSBC and Jacobs Engineering, and enabled Birmingham to make a successful bid for £1 billion of growth funds.
One of his proudest achievements, he says, was advising civil servants as to which Indian companies might be open to investing within the UK.
"Our analysis highlighted 10 potential investor firms, which were wooed by UK officials," says Professor Driffield. "Six of them have gone on to start businesses over here - employing some 22,000 people, who are all contributing to the UK economy. And that's the impact our research should have."
How has he helped attract so much foreign investment? By focusing on what companies are looking for when they consider a location rather than focusing on a region's traditional strengths.
"It's about getting both sides to communicate better about what a location's value proposition is - rather than producing the standard glossy regional videos," he says. "You need to understand a firm's strategy and find that alignment."
But not all new jobs are "good" jobs, he notes. While the UK is adept at getting large numbers of people into work, as a nation it falls short in creating higher value, more productive roles.
He says: "If you only want to maximise employment, then getting people to move cardboard boxes around in warehouses is a good way. This kind of work is important for many, but it won't lead to upskilling or a growth in productivity."
At the same time, boosting the number of opportunities for skilled work can upset the applecart - demand for skills inflates salaries for niche workers, and earnings can vary wildly and destabilise cities and regions.
"The West Midlands has some real shining examples of world class firms - from Jaguar Land Rover to Aston Martin, Amtico and many more," he says. "We have top class law firms and a high-tech cluster, but sometimes we forget the activity underpinning it - moulding plastic or basic metal for instance. The whole of the economy is joined up but we could make that work better for everybody."
But largely the flow of investment from abroad is essential for the UK, and never more so since Brexit. He adds: "There are spill-over benefits, movement of people and expertise - if we hadn't, since 1980, had such a regular flow of foreign firms bringing in capital we wouldn't have been able to sustain such a trade deficit."
He's now focused on helping the West Midlands formulate a strategy for economic recovery beyond the pandemic. He realised early in his career that it was through academia - albeit very hands on - rather than politics that he would make waves - "I'm not diplomatic enough for a political career".
The first in his family to go to university, he studied economics at the University of East Anglia. When he was offered a PhD, nobody could have been more surprised - "I thought PhDs were for clever people".
And when he landed a lecturing post, his parents were as bemused as they were proud. "I wasn't diagnosed as dyslexic until my doctorate - and to this day, I have to look up how to spell 'tariff', which isn't great for an economist," says Professor Driffield. "My mum took my lack of ability to spell as a personal slight."
Since then he's held professorships at Aston, where he also served as interim dean, before joining WBS.
How to improve productivity - typically lower in the UK than elsewhere in Europe - is the focus of his latest research. He's overseeing a comprehensive look at how UK plc can achieve this.
There are three ways to make regions more productive, he says - by encouraging and nurturing start-ups; by better innovation and collaboration; and by attracting quality firms to the UK. Overseeing these three strands of research, he'll focus on the latter - drawing on his track record in successfully attracting inward investment by aligning the needs and strategy of companies and regions.
A firm and vocal remainer, he sees Brexit as "a problem without a solution". Back in 2016 "when nobody believed we'd vote leave", he helped compile a worst-case-scenario forecast of prospects for inward investment, and was labelled a scaremonger.
He takes no satisfaction that his predictions of customs delays, declining exports and workplace shortages have since proved largely correct, and that he became a sought-after Brexit pundit - "ultimately this is about jobs and livelihoods". Brexit is a vast challenge for the Midlands and damaging for the entire nation, and the UK needs to rethink its offering, he says. And that's where he'll devote the next few years of his career.
He adds: "We've spent 40 years telling businesses to invest here because we're a bridge between the English-speaking world and the single market. If we want to carry on attracting foreign investment, we'll need a different value proposition. What I'm most interested in now is how is foreign investment going to change, and how can we influence that for the benefit of people who live here."