Change Maker: Jann Gardner on innovation in healthcare
07 May 2019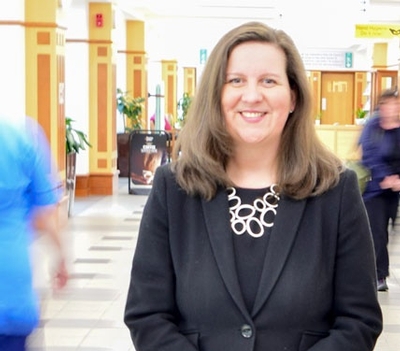 We talk to MBA graduate Jann Gardner, Chief Executive of the Golden Jubilee Foundation, which combines a hospital and centres for research, clinical skills and innovation to create a crucible for innovation in NHS Scotland.
Core: How does the Golden Jubilee Foundation diffuse its innovations across NHS Scotland?
Gardner: The Golden Jubilee Foundation is unique within the NHS in Scotland. A national NHS Board, the Golden Jubilee family includes the National Hospital, Research Institute, Innovation Centre and Conference Hotel. It is the only national board which is a provider of elective and acute hospital care while having a national provider/expertise role.
Our overarching focus is on delivering care, innovation and excellence through collaboration. We are a strong values-based employer, firmly believing that it is both what you do and how you do it that delivers innovation and excellence. As such, we are very proud of the feedback from our patients about their experience of care and our partners about working in collaboration with us.
We have direct critical partnerships with all Scottish NHS Boards and innovation networks and have a formal R&D programme. The Golden Jubilee designs and develops innovations on a 'Once for Scotland' basis through these partnerships and networks. In addition, key opportunities are provided through our provision of conference facilities to biotech and medical industries, where best practice and innovation is often shared.
The Golden Jubilee also leads the Innovation Fund for Scotland, allowing us to work with partners across Scotland to bring innovations from bench to bedside.
Working on behalf of the Scottish Government, we have established the Director of Global Development and Strategic Partnerships role as a member of our executive team. This is an exceptional role which allows us to remove boundaries, more creatively develop key partnerships and work across NHS, industry and academia interfaces.
C: What innovation process does the Golden Jubilee Foundation use in its Innovation Centre?
G: Innovation and values are at the heart of the Golden Jubilee's vision (leading quality, research and innovation). We use a combination of Design Thinking, Agile and Quality Improvement approaches and our values system both encourages staff involvement and recognises their success.
In addition, we are at an exciting stage of developing our innovation work to provide scale and pace to this programme by establishing an innovation accelerator unit as part of our portfolio.
C: What are the biggest issues in NHS Scotland that need innovation to tackle?
G: Scotland has an ageing population, high areas of deprivation and some of the highest instances of cancer and heart and lung disease in the UK. NHS Scotland needs to develop innovative new approaches to the provision of care which enable sustainability and resilience to our services.
We see the harnessing of technology and the development of new advance practice roles as critical components of this. The fourth industrial revolution of AI and digitisation will help Scotland respond to these legacy challenges from the third industrial revolution.
C: How do the Golden Jubilee Foundation's Research Institute and Innovation Centre work together? What structures and processes are in place?
G: The different parts of our organisation work both independently and in collaboration with one another. Our Research Institute focuses more on conventional clinical trials and the Innovation Centre is working to develop future products and initiatives.
Going forward we have ambitious plans to create an innovation accelerator unit to undertake strategic partnerships with industry, start-ups and academia to attract significant investment to this area.
C: A recent study has argued that the NHS has a lack of managers and needs more to improve patient care and efficiency, what are your thoughts on that?
G: I believe that NHS Scotland needs to develop effective and values-based leaders who have the skill-set to foster innovation. NHS Scotland is committed to developing clinical and other leaders with a range of skills, including entrepreneurship, innovation and digitisation, and who are committed to creating or supporting a values-based culture and the Golden Jubilee has a critical role in this work.
C: How does Golden Jubilee connect its work with social care in Scotland as an ageing population puts pressure on social and hospital care?
G: Scotland's Cabinet Secretary for Health and Sport has identified access, integration and mental health as three critical priorities and all NHS Scotland Boards are committed to supporting these.
The main focus for the Golden Jubilee continues to be around providing access to services. We have continually increased capacity year-on-year and significant work is underway on the Golden Jubilee elective expansion, which will increase capacity even further to ensure NHS Scotland can meet demand up to 2035 in ophthalmology, orthopaedics and other key services to meet the needs of Scotland's ageing population.
The Golden Jubilee is also partnering with other NHS Scotland organisations to develop further elective capacity, capability and workforce skills across Scotland.
C: What examples of technology, such as AI, is the Golden Jubilee Foundation researching?
G: The Golden Jubilee Foundation is at the forefront of innovation in healthcare and is involved in a large number of developments including:
Launching a robotic lung surgery programme.
Planning a robotic orthopaedic surgery programme in the near future.
Developing 'first in UK' laboratory services.
Developing clinical specialty data lakes to enable research.
Using technology to remotely monitor heart failure patients, reducing the need for hospitalisation and potentially saving lives through early intervention.
Using the Organ Care System to keep donor hearts beating, potentially increasing the number of donor organs available to patients with advanced heart failure.
Developing a direct referral service for patients experiencing a Non ST elevation myocardial infarction (NSTEMI heart attack), which is where the supply of blood to the heart may be only partially, rather than completely, blocked. This will help treat patients quicker and reduce their length of stay in hospital.
Using AI approaches to patient monitoring of vital signs, quality improvement, quality dashboards and even placement of patients on waiting lists.
C: What impact will the fourth industrial revolution have on healthcare?
G: The fourth industrial revolution will be transformational for healthcare in Scotland and indeed globally. This journey has already begun for NHS Scotland and is fully supported by the Scottish Government, industry and academia. There will be huge opportunities for the application of the Internet of Things, AI, robotics and beyond for diagnostics, monitoring, care at home and staff/patient education, but the scope is infinite.
The Golden Jubilee is thrilled to be at the heart of Scotland's innovation at this really exciting time and has the ambition and capability to be a critical player in this landscape.
For more articles like this download Core magazine here.