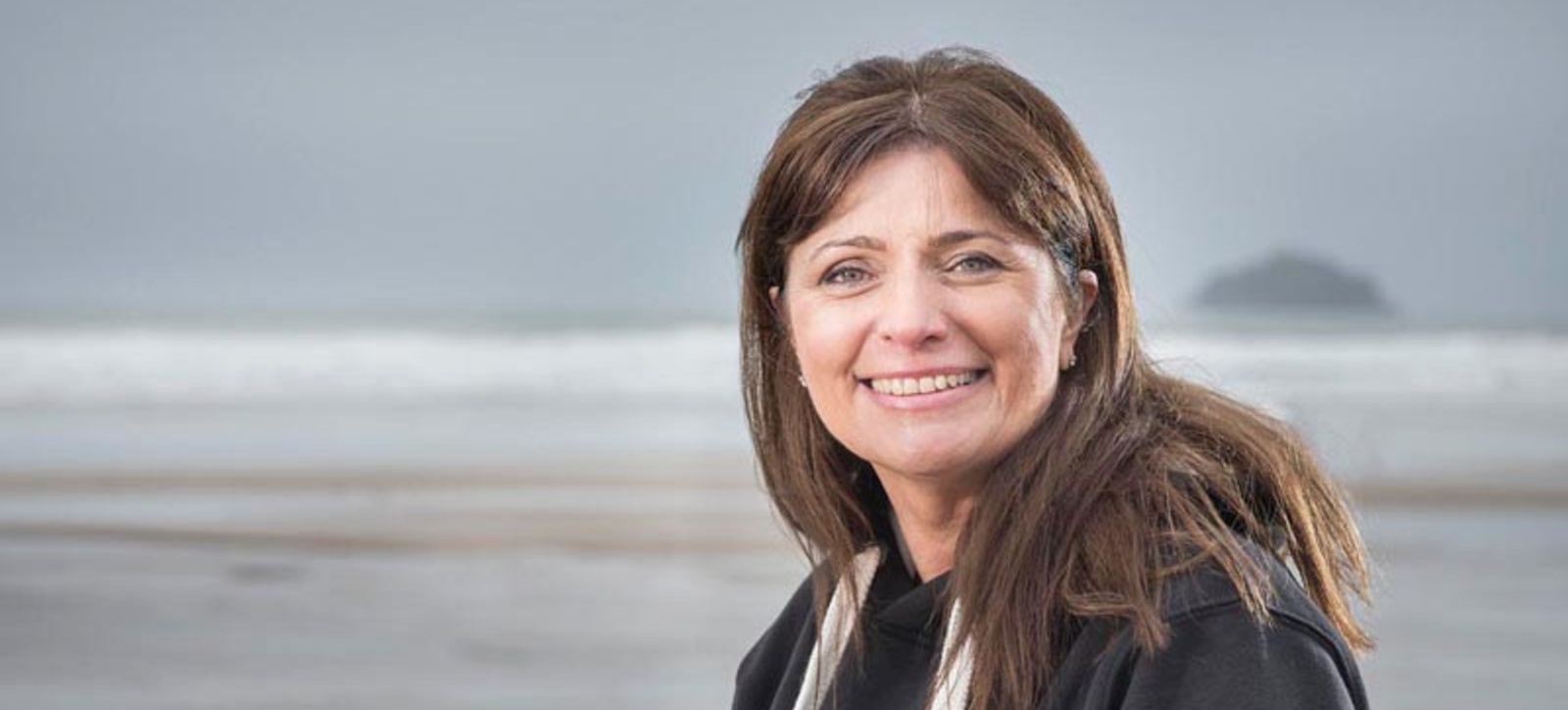 Keep Britain Tidy CEO has spent her career fighting for the 'left behind'
Allison Ogden-Newton won landmark court cases for women in construction
She led the development of social enterprises in the UK
Now Allison is heading the battle against litter and ecological disaster
As a self-confessed "professional pain-in-the-arse" Allison Ogden-Newton was suitably stunned to receive an OBE in the New Year's Honours list.
She has spent all her life campaigning; from working for the biggest clothing union in the US, suing construction firms for awful abuse of women in the 1990s, to traveling the world fighting cancer and now lobbying to save the planet as CEO of Keep Britain Tidy – the Warwick Business School alumna has been raging against the machine for a long time.
"It was mind-boggling and very exciting to get an OBE," says Allison, who studied Industrial Relations in the 1980s when the UK was awash with strikes and the Government would beat a path to WBS for its research on the subject.
Her degree inspired the young egalitarian, who grew up in leafy Buckinghamshire attending Holy Cross Convent School, to fight for the under-represented, flying to New York and "offering her services" to the once biggest garment union in the world - the International Ladies Garment Workers Union.
"My first job was delivering subpoenas," says Allison. "I think they were trying to get rid of me – it was terrifying. You had to get the subject to answer to their name and touch them with the subpoena. There were a lot of guys setting up 'sweetheart unions' – totally illegitimate unions that lock employees into an agreement that does nothing for them. So we had to go to court to get them shut down.
"I guess they thought I might get closer to the targets because I was English. I remember chasing one man around his dining room table, while his wife held back his children in astonishment. But I was a lot taller and I managed to catch him and shout as I ran out the door 'you're served'."
Allison returned to the UK to work for the Union of Construction, Allied Trades and Technicians (UCATT), leading its campaign against the use of solvents in paint.
"It was probably the most important thing I have ever done," she says. "There were young men who had been paralysed from the neck down by working in wood treatment plants or women who had suffered miscarriages as painters in boat yards. It was incredible that young fit people within weeks of starting a painting job were profoundly affected – just inhaling the solvents ended healthy lives.
"We took the high profile cases to court and campaigned so effectively that the industry voluntarily removed solvents from all paints."
She also helped the union win several landmark court cases that established benchmarks for women's rights working in the construction industry.
"What some of them suffered was horrific," says Allison. "One young union member was held down with her legs pulled apart and threatened with an electric drill. We managed to get her damages of more than £20,000, which was huge back then."
Her campaigning work saw Allison head-hunted to join the Women's Education In Building's board and she was quickly appointed CEO at just 29. She has been leading third sector organisations ever since, moving onto run Social Enterprise London in the 1990s, the first development agency of its kind in the UK, before becoming CEO of World Child Cancer and then taking over the top spot at Keep Britain Tidy in 2015.
With them all, she has developed the art of lobbying politicians – "you have to present them a solution not just the problem" – and become an expert in a myriad of subjects. She is a polymath with a campaigner's thirst for change – listen to her on social value:
"We looked at outsourcing services to social enterprises, community-based projects or even the private sector but retained the qualities that make it a public service rather than just going for the cheapest provider," says Allison, who set up the Transition Institute, based in the Royal Society of Arts, for academics to research the subject.
"What is it that society has decided is the value on that intervention? How can you protect that from profiteering? For example, setting up a contract for work-based training, for instance you could say that people getting jobs is the outcome and offer the contract to whoever can do the cheapest intervention that will achieve the most jobs.
"But people who are less likely to get jobs are more expensive to train and support, such as the homeless or those with mental health problems, disabilities, addictions, or have caring responsibilities. There is a whole slew of people far from the workplace and expensive to support in the system, who won't get jobs without help and are the ones that really need that help. What you will instead end up with is an agency meeting their target by fast-tracking university graduates into entry-level jobs.
"This probable outcome needs to be anticipated in the contracting process and then you have to analyse how much you are willing to pay to support the vulnerable to get into work, and work out which is society's priority; keeping people at home or helping them get decent, fulfilling jobs?
"And if leaving the social care system to pick up the bill seems the most expedient thing to do, does that take into account the loss in economic impact these people could contribute if we funded effective interventions? What does society see Government's role in helping these people? Social value looks across all these things, and asks what are public services for and what do we mean by society?
"We did some really interesting research on these issues, but couldn't get funding as outsourcing bodies consistently prioritised the cheapest result over any other outcomes."
It is the kind of passionate and rigorous rant that makes you think Allison should embark on a career in politics. She laughs off the suggestion.
She says: "I have thought about it, but making a difference this way is so motivating. Changing lives for the better, protecting the lives of the most vulnerable and the environment – that is a lot more legitimate for me than politics. For me it is all about the issue and how much of a difference I can make today.
"I am particularly interested in organisations that need reframing, that are struggling to get people to hear their message and join the cause. That is where my skillset lies, being able to get the public to care and act."
Allison is now making sure Keep Britain Tidy gets its message across and this March will be joining thousands in its Great British Spring Clean. Last year more than 560,000 people took part and she is hoping to beat that record.
"People still say what difference can I make when India and China are dumping all their waste, but we are starting to get through to people that they can change their lifestyle and make a real difference to the environment where they live, which matters," says Allison.
"The UK is the largest consumer of food and drink on-the-go anywhere in the world. Last year we consumed over 3.5 billion single-use coffee cups. The industry standard is to make them out of virgin paper, which means cutting down trees that orangutans and other wildlife live in, then lining the cups in plastic for us to consume a milky drink in a few moments. The industry say four per cent are recycled, though we would dispute it's that high, but that still means 96 per cent are going into landfill or escaping into the natural world."
That is tens of billions of cups over the years. Imagine digging a hole to fit them all in – crazy! The problem, Allison explains, is the plastic coating needs specialist equipment to remove it so that the leftover paper can be recycled. Currently only one facility has the technology in the UK to do this, but sending more than a fraction of the cups to them will simply not work.
"It is extremely hard to extract the cups from rubbish and waste streams and ship them to a single site, an extra environmental cost," she says. "Recycled in that way would make them the world's most expensive recycled coffee cups!"
Instead, Allison is lobbying the UK Government to pass legislation that makes producers contribute to the cost of retrieval through something called Extended Producer Responsibility and then are bound to produce packaging that must be able to be recycled using current technology. The industry would contest the extra costs involved and threaten to pass them on to consumers but, as Allison points out, the consumer already pays through taxes for cleaning up waste.
Another lobbying hobbyhorse is trying to persuade politicians to implement a 'container deposit scheme' where people are incentivised to take plastic and glass bottles back to shops in exchange for money. She also wants an industry standard definition for biodegradability.
"At the moment anybody can say their packaging is biodegradable, but that can take a few weeks or 50 years to disintegrate," says Allison. "One of our team had a so-called biodegradable wet wipe in a bottle of water for two years which never degraded, despite the makers saying it would dissolve down the toilet – wet-wipes block drains, create fatburgs, increase sewage entering the river system, not to mention contributing to flooding – they are the devil's work!"
It is another battle that Allison has in her sights. It all sounds exhausting but she seems forever ready with a flotilla of facts and stats to bombard the industry with.
"I always think we will win," says Allison. "If the argument is strong and self-evident then change will happen."
For more articles like this download Core magazine here.