Chengwei Liu included on Thinkers50 Radar list
30 January 2016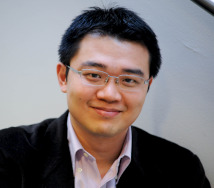 Chengwei Liu picked on list of up-and-coming management gurus
30 of the world's brightest minds selected by Thinkers50
Research on luck and radomness attracts judges
Radar list highlights academics from world's top business schools
Chengwei Liu has been listed as one of 30 global management thinkers most likely to shape the future of how organisations are managed and led.
The Associate Professor of Strategy and Behavioural Science has been revealed as one of 30 management gurus in the world to watch by the Thinkers50 Radar list.
Thinkers50 scans, ranks and shares the very best in management ideas and its global ranking of management thinkers is published every two years. The 2015 winner was Michael Porter, of Harvard Business School and previous winners include Clay Christensen, and Peter Drucker.
Dr Liu, who teaches Strategic Advantage on a number of Warwick Business School postgraduate courses, was shortlisted for his research into luck and skill.
He joins a host of other notable thinkers including Rachel Botsman, of Said Business School, a previous winner of the Thinkers50 Breakthrough Idea Award; Jose Esteves, Head of the Information Systems Department at Spain's IE Business School; and Erin Meyer, Affiliate Professor of Organisational Behaviour at INSEAD.
Dr Liu said: "It is a great surprise to be included in the Thinkers50 Radar list of up-and-coming management gurus. One common feature of the people I know on this list is that we all challenge the 'wisdom' of some existing management gurus.
"For example, instead of learning from 'great' firms, my research suggests that the more exceptional a success is, the less we can learn from them because moving from 'good to great' often requires luck by being in the right place at the right time. Some wisdoms now need to be modified and adapted. I am grateful Thinker50 recognises and celebrates our efforts."
The founders of Think50, Des Dearlove and Stuart Crainer, were drawn to Dr Liu's research into luck and randomness.
Dr Liu has spent a number of years researching whether performance differences should be attributed to skill or luck. Luck, it turns out, is often mistaken for skill according to his research.
Mr Crainer believes the latest nominations show an immense range of great business ideas.
"What is interesting is that ideas and thinkers no longer can be neatly pigeon-holed into traditional categories like leadership and strategy, " said Mr Crainer.
"These thinkers are truly independent minded. They are driven by curiosity rather than careers. In addition, their ambition is much larger than the previous generation of thinkers."
Chengwei Liu teaches Strategic Advantage on the Distance Learning MBA and Executive MBA London. He also teaches the same module and also Behavioural Sciences for the Manager on the Executive MBA and Quantitiative Methods for Business on the MSc Business suite of postgraduate programmes.