Co-op sticks to principles in showdown with Sutherland
13 March 2014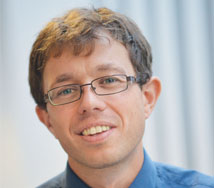 Professor John Thanassoulis told BBC's FiveLive that despite the Co-op's huge financial problems it has shown it is determined to stick to its principles by accepting CEO Euan Sutherland's resignation.
The Australian handed in his notice in a 'back-me-or-sack-me' move that eventually saw him leave after 10 months at the organisation. He left complaining it was an impossible task to resurrect the Co-op's fortunes if it did not change its governance ahead of an expected second year of multi-million pound losses for the group.
Mr Sutherland planned to sell off the Co-op's farming and, possibly also, its pharmaceutical operations to solve its financial problems, even though it would mean the loss of thousands of jobs, with many of those affected being Co-op members. Mr Sutherland claimed that these changes were necessary to put the Co-op on a secure financial footing and, in time, allow expansion into new, different and more profitable business areas.
Professor Thanassoulis said it was a clash of cultures that has eventually seen the Co-op board, which is wholly elected by its members, decide to turn its back on Sutherland's traditional CEO management style.
It was leaked last week that the group was recommending Mr Sutherland should get a remuneration package worth £3.66 million for 2013 despite his plan to axe thousands of jobs. The leaking of this information according to Professor Thanassoulis may well have been designed to undermine the CEO's position in calling for the cost cutting measures.
"From the elected representatives' point of view, they were being asked to simultaneously swallow a doubling of the CEO's pay and the redundancies of the very people who voted to put them on the board," said Professor Thanassoulis.
By accepting Mr Sutherland's departure the Co-op did not, however, accept Mr Sutherland's analysis.
"It is tempting to conclude that the Co-operative group has shown itself to be weak and that the difficult decisions necessary to maximise profits cannot be taken by the member-owned model," said Professor Thanassoulis. "One might think that the elected representatives are too quick to succumb to the special pleading of their constituents and so lose sight of the business as a whole.
"In my view this conclusion is too pessimistic. The Co-operative group has demonstrated it is not a profit-maximising structure. It was never meant to be. Instead it has elected to remain as a family of firms, not willing to sacrifice people and businesses due to short-run concerns.
The Professor of Financial Economics added: "The board showed itself unwilling to do this. It has demonstrated that it will not dispassionately sacrifice some parts of the business to recoup money lost essentially via banking.
"Clearly the future now holds great uncertainty and a lower profit rate. The large debts built up will need to be serviced, but the Co-op governance has shown that an inclusive solution must be found which delivers what customers want while generating enough profit to secure its future and not the most profit possible at any price."
Listen to Professor Thanassoulis on BBC Radio FiveLive here. He is on after 2hrs 30mins.
See this article featured at BBC Online, Forbes, The Week.
Professor John Thanassoulis teaches Corporate Finance on the Warwick Executive MBA and Warwick MBA by full-time study.