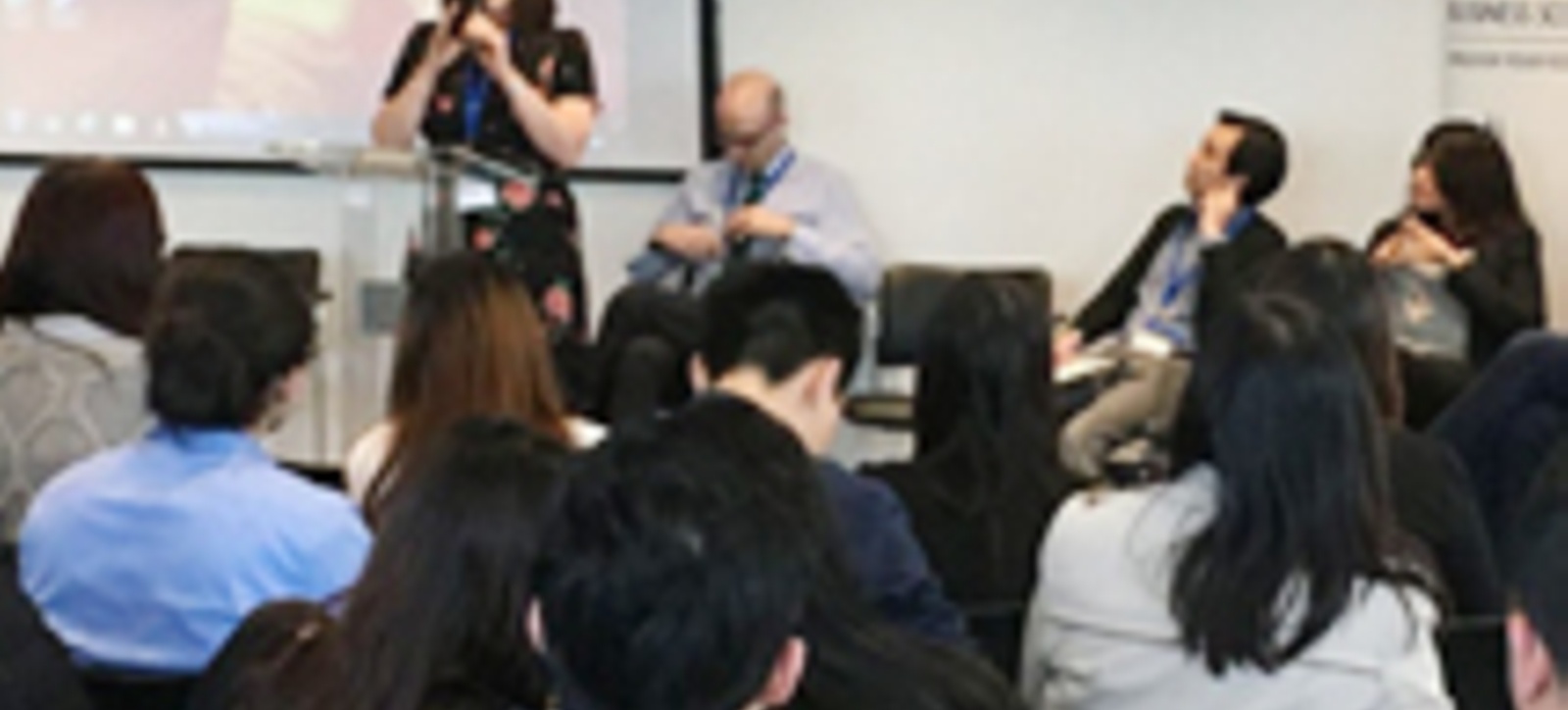 MSc Business (Consulting) students visit IBM
The 53 students also attended a panel session at The Shard
10 experts were on hand to discuss all things consultancy
Questions included: 'What is a typical day for a consultant?'
Masters students visited IBM's London Design Studio to gain unique insight into day to day practices of consultants and participate in a workshop with several experienced consultants representing a variety of sectors and career paths.
The 53 MSc Business (Consulting) students had the opportunity to look behind the scenes of what an IBM consultant does and, after the workshop, question a panel of experienced senior consultants from a range of top companies at WBS London at The Shard.
The IBM event was hosted by a team of 10 IBM staff who showed the tools, spaces and equipment they work with, as well as how they work on a day to day basis in the trendy office in the Southbank. This included an explanation of their roles and the process of agile project work.
"Our diverse team were given the opportunity to showcase the IBM transformation through Agile working practices and cross-functional collocated teams," said Kamaran Sheikh, Global CIO Lead for Partnerships at IBM who is also enrolled in the PhD programme at WBS.
"We were impressed by the engagement and professionalism of the students and enjoyed answering many interesting questions."
Associate Professor of Information Systems and Course Director, John Baptista, added: "The aim of this trip was to give students a real experience of day in life of a consultant on location, so they see in practice what work at IBM actually looks like and how it is done, and relate it to models and frameworks they cover in lectures."
The students were broken into four small groups, then toured the office and talked to the teams on site.
This was then followed by a trip to The Shard offering students the opportunity to speak to and question a number of consultants.
The Shard session included seven different consultants: Doug Clayton, Associate, Arcadis Kevin Yuen, Head of Practice, Creative, BAE Systems Applied Intelligence, Jen Stevenson, Head of Procurement, Virgin Care, Andrew Vaid, Founder, Firestone Advisory, Phil Mennie, Global Social Media Risk & Governance Leader, PWC, Yasmin Becker, Director, Brownsover Green, Paul Thomas, Senior Digital Communications Strategist, Grant Thornton.
Masters in Business (Consulting) student, Ollie Hill, said: "I really enjoyed the entire trip to London. Seeing the IBM offices was inspiring, and reminded students of potential future opportunities.
"The talks at the Shard reminded us of the scope of consulting. My classmates and I found the speakers really engaging, and it was great they happily answered any of our questions."
Questions were on a number of themes including: work-life balance, consultancy as a career and the application process. Specific questions included: 'Would you ever give up your career in consulting?', 'What advice would you give to graduates entering the Consulting market?' and 'What is a typical day for a consultant?'
Dr Baptista added: "For this second part the overall aim was to give students opportunity to ask questions they would not normally ask during job interviews, kind of like a reverse job interview with experienced consultants in an informal setting, and no scripted presentations.
"This gave them a very real and practical view of different career journeys and personal approaches.
"Our students came equipped with a range of questions covering some very personal issues, micro issues related to day to day activities such as how to deal with difficult managers, bad presentations to clients and also much broader macro themes around career choices in consulting. We also gave some book prizes for best contributions."
After the general panel students were then able to participate in more intimate talks with individual speakers in small groups, followed by a very nice meal in the evening with networking.
Doug Clayton, Associate, Arcadis, said: "It was great to be able to impart some real life experience to the group who came with questions that also made me reflect on my time as a consultant. I think the students left with a more rounded view of what consultancy is all about – their academic studies will give them the theory but this event helped them to fill in the blanks around the life, culture, ups and downs of the consultancy industry and what they might expect in the future"
Yasmin Becker, Director, Brownsover Green, added: "It was rewarding for me to share with the WBS students the story of my career in consulting.
"It was good to see so much enthusiasm and talent in one room. Above everything else, it gave me great pleasure to see so many young women aspiring to be consultants. I was delighted to hear the students say how much my story had motivated and inspired them."