COO of Birmingham Airport praises 'fantastic' WEN
19 June 2015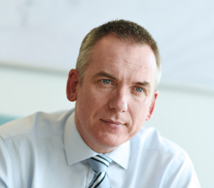 David Winstanley is Chief Operating Officer at Birmingham Airport. With more than 20 years' experience as an RAF traffic controller, he joined Birmingham Airport in 2007 quickly rising through the ranks to the COO position. In his time, Mr Winstanley has seen a strong connection emerge between Birmingham Airport and Warwick Business School, and here discusses how well the Warwick Executive Network (WEN) and masterclasses on offer have fitted in with the Airport's overall strategies and development plans.
Why did Birmingham Airport sign up to the WEN? –
David Winstanley: "We signed up to the Warwick Executive Network as it seemed a great addition to our long term coaching programme and succession planning. We wanted to work with an academic institution with an excellent reputation, but just as importantly somewhere local for us too.
"We were looking for a programme which could provide normal progressive development areas for our managers, but also one touching on systems and theories that might not be necessarily encompassed in normal business processes –so programmes maybe looking at forward thinking, or something a little more unusual in their context.
"Ultimately, we wanted something right for the business and right for the individual so it not only allowed a little individual stretch, but also added value back to the business."
Why Warwick Business School? –
David Winstanley: "As mentioned already the excellent reputation of the business school, and its convenient location were big factors in our decision.
"However, I would also say the product range within the masterclass attracted us in terms of scope, variedness and the fact it also included the network programme – this was helpful as we could link with other businesses with shared interests in the local area or shared interests in development.
"That network has proved to be very successful. Overall, it all fell in quite nicely with our coaching programme, it was quite complementary."
How has the WEN and masterclasses helped staff development? –
David Winstanley: "We've benefitted from many of the masterclasses. The courses involving decision-making really went well. We've done lots of research in collaborative decision-making and good operational decision-making, but none of our managers had ever really stopped and looked at how they themselves made decisions.
"WBS offer many programmes involving decision-making. So, here at the Airport, during monthly business review meetings where the CEO is giving business updates, participants involved in such masterclasses have an opportunity to brief everyone else on what has been covered in the class. Discussions are then split into sub groups on the topic of decision-making and the ultimate simplicity involved in decision-making. That really sparked off an excellent discussion among the groups.
"Another popular course involved performance measurement. That really helped when we established our airport control centre – It made us question why we capture data, and, if we're collecting it to make a decision, let's make sure we're capturing to make the right decision at the right time.
"Another course on perception was great as we put this into our customer service training in regards to how passengers perceive things. There are so many masterclasses and we've found all the courses very useful for our staff, but these are the three that stand out particularly."
How popular is the course with staff? –
David Winstanley: "99 times out of a 100 we'll be oversubscribed for all the courses, we'd easily be able to fill ten spots rather than the six. There is a real eagerness, and information being fed back in an enthusiastic way encourages others to want to join in."
Are you happy with the range of classes offered? –
David Winstanley: "We're very happy with the range of classes and delighted we've been able to feed in some ideas, which have gained some real traction. This shows the Business School is really committed to a proper partnership as a two-way, reciprocal process.
"It was not simply just a take it or leave it approach – instead, we were approached to discuss what challenges the airport will face in 12 months, and even further down the line in three or five years' time. We were asked what we'd need in order to equip our managers for the future and what areas of development we really wanted to look at. We were then given the opportunity to throw some ideas in too."
How useful have you found the networking opportunities offered by the WEN? –
David Winstanley: "The WEN has offered plenty of networking opportunities, both on an individual and a company wide basis.
"In terms of an individual basis it has allowed managers going through personal development programmes to discuss their problems outside of their own sector and bounce ideas off them. Without being simplistic, many challenges are not unique – every industry faces similar challenges – as an example, change management. Listening to how other companies tackle change is interesting at an individual level, but also at a company level is also really interesting.
"On a company level, the WEN has allowed us to establish ties with other organisations, organising visits for sessions and hosting them. Here we can explain what we do and how we can help the West Midlands economy.
"Looking at local industry for example, we could discuss what do you need in import and export, where do you see your future gateways, who are you doing business with? If you are doing business with China, for example, maybe we can look to these markets. A symbiotic relationship emerges from such networking."
How much do you value the academic expertise on offer? –
David Winstanley: "Out of all the programmes, we've had great feedback on nearly every session. They have been delivered to an excellent standard and quality. Personally, I've been blown away sometimes, thinking, wow, I'm learning stuff I hadn't fully grasped before.
"The Keith Grint class was a fantastic session and overall, both internal and external lectures have been fantastic."
Have you picked up skills yourself on the courses? –
David Winstanley: "I would say if not a skill, a different point of view or perception. Decision-making, simple decisions again.
"You enter thinking, surely we're not that simple, but actually, through comparison and perception, see it is true. This is the one which sticks in mind. Hand on heart I've walked away with information, fact or perception with every class I've attended."
Would you recommend the Warwick Network Group?
David Winstanley: "I have no hesitation recommending it. It's part of our great people coaching programme, it keeps developing and its range of topics will continue to help us to grow.
"It can take a simple requirement and spin it for companies – offering engagement in industry to shape its programme is one of its key assists."