Core magazine: Rebuilding Africa's brand
27 January 2017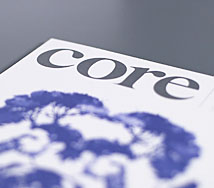 Exclusive article from Warwick Business School's magazine Core
WBS academic says Africa is home to a new breed of entrepreneurs
Many have been forced into this due to lack of skills says Christian Stadler
He believes these entrepreneurs can help change western perceptions
Africa's consumer-facing industries, resources, agriculture and infrastructure together could generate as much as $2.6 trillion in revenue annually by 2020, according to a report by the Mckinsey Global Institute.
Meanwhile, Africa's collective GDP in 2008 was $1.6 trillion - roughly equivalent to that of say Brazil or Russia.
These economic facts should be viewed as plus-points for those wanting to invest in African economies, however, the perception of the African people and economy is a mixed one, coloured by media pictures of war, famine and unrest.
The continent's troubled image has caused global companies to overlook business opportunities, but there is a new breed of entrepreneurs in Africa that could be changing that, a breed that has flourished with a rare single-mindedness and creativity that sometimes only limitations and scarcity can produce – after all the imagination is limitless.
Next big growth area
Christian Stadler has travelled to Africa to find out about its entrepreneurs and has found a country very different to the one the West sees in the news.
"One of the 20 fastest growing economies in 2015 was Kenya according to a survey by Bloomberg economists," says Stadler, Professor of Strategic Management at Warwick Business School. "However, most of the items of news we see on the TV report Boko Haram terrorism in West Africa or Al Shabaab in Somalia.
"There are also somewhat negative views of African migrants who come to the UK. We in the West are also unable to make a distinction about different types of Africa geographically, for instance Nairobi is very different to North Africa."
Perceptions like these have to change, Stadler believes, so that investors are attracted to allow the African economy to develop. And he has discovered plenty of opportunities for investors looking for the next big growth area.
"The number of Africans interested in entrepreneurship is growing dramatically," says Stadler. "In countries like Gambia and Nigeria 40 per cent of people have started a business that is less than three years-old. Investors do not want to miss out on this opportunity."
There is also a burgeoning middle class in Africa that needs feeding. They are increasing demand for consumer goods, presenting ripe opportunities for entrepreneurs. This new army of entrepreneurs also come armed with the latest management thinking and teaching thanks to the West's universities, especially in the US and UK.
"There is a growing number of people returning from the West having been educated in universities there or employed there and they are using all of that knowledge to pursue opportunities in Africa," says Stadler. "They see it work in the US or UK and then go back to Africa to implement it."
University of Manchester graduate Jason Njoku is one such African who had the entrepreneurial mindset to see an opportunity and jump in with both feet. He set up iROKOtv in 2010 after he was tasked by his mum to buy some Nollywood DVDs - Nigeria's equivalent to the US' Hollywood film industry. Surprised and frustrated he couldn't get hold of any easily on DVD he jumped on the plane to Lagos – and the rest they say is history.
Njoku started buying online licences for Nollywood movies to stream on a dedicated YouTube channel. Thanks to investment from US-based hedge fund Tiger Global, the channel became a dedicated Nollywood platform.
Now dubbed the Netflix of Africa, iROKOtv makes its own content to stream and has offices in Lagos, New York, Johannesburg and Kigali in Rwanda, with a staff of more than 100 and funding totalling $25 million.
iROKOtv's popularity is set to grow in tandem with the Nigerian entertainment industry, whose revenues grew 23 per cent between 2010 and 2013 and contributed three per cent to the country's GDP. This will only be exacerbated by the surge of mobile internet users expected to total 110 million by 2018, who will push the entertainment industry's value up to $8 billion in the next three years, according to iROKOtv.
Fastest-growing middle class
According to the African Development Bank and the US billionaire George Soros, Africa now has the fastest-growing middle class in the world. Some 313 million people, 34 per cent of Africa's population, spend $2.20 a day, a 100 per cent rise in less than 20 years. The bank's definition of middle class in Africa is people who spend the equivalent of $2 to $20 a day — an assessment based on the cost of living for Africa's near one billion people.
By 2060, Africans living below the poverty line will be in the minority – 33 per cent. The bank describes the rise as "unstoppable". Investors cannot ignore revolutions in North Africa, and famines in East and West Africa, but the underlying mantra of "growth, growth, growth" is taking hold.
Njoku was living in England when he set up iROKOtv, but Stadler believes many Africans have been driven to entrepreneurship due to the lack of formal employment in their country or they have decided to turn their everyday duties into a business.
According to the 2015-16 Global Entrepreneurship Monitor (GEM) report more than 60 per cent of people in Senegal and Botswana stated they intended to start a business over the next three years. In its 2014-15 report GEM found an average of 71.5 per cent of 18-64 year-olds in Angola, Botswana, Burkina Faso, Cameroon, South Africa and Uganda believed becoming an entrepreneur was "a good career choice".
"Someone collecting rubbish every day as their job can turn it into a rubbish recycling business or a cleaning lady who is just cleaning one house, then gets more cleaning jobs due to word of mouth, then she sets up her own cleaning business," says Stadler.
"If you look at how quickly cities in Africa are growing - you already have 51 cities bordering on a population of one million. As these cities start growing so does their division of labour."
Built on success
Technology is also helping African entrepreneurs overcome the infrastructure problems the continent has. Many tech start-ups have built on the success of M-Pesa, the mobile payment system that was launched by Safaricom in 2007 giving Kenyans technology way ahead of Western consumers. With 80 per cent of Kenyans using M-Pesa and more than 18.2 million subscribers, mobile money transactions in Sub-Saharan Africa hit $656 million in 2014.
Stadler says: "M-Pesa has enabled a lot of start-ups to flourish and is one of the reasons why entrepreneurship has grown so quickly in Kenya.
"M-Pesa works on the very simple principle of transferring money via your mobile phone. The transactions carried out via M-Pesa are larger than all of the banks in Kenya combined, it is a very successful business and allows other companies to exist."
Stadler cites M-Kopa, which sells solar panels to rural residents in Africa, and Kopo Kopo, a mobile payment tool for business, as examples of companies that have grown thanks to M-Pesa.
"M-Kopa is an example of a business that links a very basic need to smart technology," he says. "This business was started by a group of entrepreneurs who saw that people living on the outskirts of towns and in villages were having problems getting electricity into their homes cost effectively.
"They were also using unsafe methods to light up their homes like burning kerosene lamps. An alternative solution for lighting up your home would be to put a solar panel on your roof and get electricity in your house that way."
M-Kopa estimates that 80 per cent of its customers live on less than $2 a day and energy accounts for a significant amount of their spending. The company's power system costs $200: it includes a solar panel, two LED bulbs, an LED flashlight, a rechargeable radio, and adaptors for charging a phone. The kit comes with a two-year warranty, and its battery is designed to last at least four years.
It is a lot of money for those living in rural villages so what the company sells is in effect a loan of about $165. Clients pay $35 upfront and agree to make a daily payment of 45 cents for a year until the system is theirs - hence the name kopa, which in Swahili means 'to borrow'. The kits come with a control box containing the battery and a SIM card that can communicate with M-Kopa headquarters in Nairobi.
Kopo Kopo, meanwhile, is a service that helps businesses to accept payment of services rendered through M-Pesa. It is easy to use and affordable; only one per cent of the transaction is deducted.
It enables service providers to track transactions and identify sales trends and market insights. Running on the M-Pesa platform means it is safe and trusted.
Kopo Kopo is based in Nairobi, which has made its mark in the global technology community through the mobile banking technology that has evolved around M-Pesa. These innovations are changing the face of Nairobi, meriting the description as Africa's 'Silicon Valley'.
Funding a problem
Funding has always been a problem for start-ups in Africa, with banks being out of the reach of most, but that is also being solved says Tayo Leigh, who set up Shortlist, a headhunting platform in Nigeria, which allows job seekers to upload their CVs for companies to search for talent.
"There is more funding for online businesses," says Leigh. "Institutional funding is still very hard to get hold of without an extensive business plan and watertight numbers behind you - and I don't know that entrepreneurs have the knowhow to deliver that perception of robustness at the early stages of their business. Lending rates on bank loans are often higher than 20 per cent - who can service that kind of debt in the first few years as a start-up?
"But there are growing initiatives and bodies set up to give out grants. I recently attended the Africa Business Angel Forum that has both angel investors and institutional investors and it was really interesting to hear what they look for and even more interesting to see entrepreneurs pitching and how much they were looking for and valued their business."
Shortlist got its funding from management consultants Phillips Consulting who came to Leigh with the idea.
"Unemployment remains a huge issue in Nigeria with 30 per cent of 24-35 year-olds out of work," says Leigh. "We wanted to cater for a specific niche, the experienced professional, middle managers and directors who would depend on word of mouth or personal referrals to make their next move.
"We are kind of like a LinkedIn for Nigeria. This means our registered candidates are directly contacted for roles that are often not advertised and they probably would not have heard about."
It is clear that a new generation of African entrepreneurs are emerging with full force and setting up companies like M-Kopa, Shortlist and iROKOtv and these people are changing the way the global business community and global media view the African economy.
"There is an increasing interest in Africa by a collection of people with a true affiliation to the continent," says Leigh. "I know that the narrative of Africa as a troubled continent is not the Africa that many young people are now growing up with, Africa is now cool.
"The export of music, fashion and the greater connectivity of the world means young people in the continent are being influenced, talking about and connecting to the same pop culture and issues that the rest of Europe and the US are exposed to."
Changing perceptions
Immaculate Kiiza, director of children's charity, Hope for Children in Uganda is hopeful that perceptions of Africa are changing.
"Africa is becoming a force to be reckoned with," she says. "With each passing year and the new generations coming up, I believe the stereotype will change. This, of course, has to start with us, the Africans. We have a long way to go, but if entrusted with great leadership I personally believe the rest can follow."
Stadler agrees and is optimistic about the continent's future, believing the people have the drive and ability to improve Africa's economy and in doing so change its image.
"The right ingredients are there: talent, demand and increasingly also the capital that is required for some of the initiatives reaching a critical scale," says Stadler.
"Looking at the entrepreneurial energy in places like Nairobi or Lagos I have no doubt the future belongs to Africa."
Christian Stadler teaches Strategic Management Dev on the Doctor of Business Administration. In addition, he also teaches Strategy and Practice on the Executive MBA and Executive MBA (London). He also teaches Strategic Advantage on the Executive MBA (London).
WBS Alumni should now have received the latest edition of Core. If you have not, please check your details are up-to-date here.
If you are currently not a student or an alumni at Warwick Business School but would like a copy of Core, please click here to download Core edition one, two and three.