Core magazine: Trailblazer Khan takes his chance
07 February 2017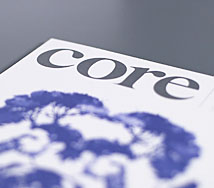 Exclusive article for Warwick Business School's magazine Core
Wasim Khan was first English Pakistani to play professionally
Now breaking more boundaries as CEO of Leicestershire County Cricket Club
Khan hopes to inspire other ethnic minorities to move into the boardroom
When Wasim Khan sat in the alley ways of inner city Birmingham chiselling a picket fence post into a cricket bat with his mum's kitchen knife, little did he realise it would lead to a lifelong career in the sport.
Khan has been breaking barriers ever since. When in August 1992 Khan strode out to bat for Warwickshire in the Sunday League clash with Northamptonshire at Northampton's County Ground he became the first Englishman of Pakistani origin to play professional cricket in the country, and the first Muslim. He had already been the first to captain England Under-19s.
On the cricket field Khan won the NatWest Trophy and County Championship with Warwickshire, but it is off the field where he has made his name and continued to break down stereotypes.
First he became Cricket Foundation's CEO of Chance to Shine raising £50 million to help children play cricket in inner-city schools and now he is the first non-white CEO of a county cricket club, as he tries to lift Leicestershire from its recent moribund state.
Whether it is chiselling out cricket bats, or crafting out success from a cash-strapped cricket club, Khan has gained a reputation for making the best with limited resources.
"When we started Chance to Shine lots of people said it couldn't work," says Khan. "Similarly, when I was thinking about taking the job at Leicestershire nine out of 10 people said I was crazy. I could probably have gone to a job at a Test ground but what difference could I really make? Here at Leicester there's a real chance to achieve something."
Grace Road has always been one of the less romanticised county cricket grounds, but as we stroll around the outfield building work is under way to transform that.
From humble beginnings Khan has already achieved great success. His parents travelled to England in the 1960s from Kashmir, a region beset by war and conflict as India and Pakistan disputed the region. His father found work at Wimbush Bakery in Small Heath, but despite coming from a cricket-mad nation he had no interest in his son's new found passion for cricket.
"A few boys would play cricket in the alley ways, so I joined in," says Khan. "We used milk crates as wickets, and I carved my own bat out of a piece of fence. That is how it started."
Remarkably, Khan developed a natural talent that was only spotted when a teacher peered out of the staff room one break time at Oldknow secondary school (now Small Heath School).
"He came over and asked me: 'Where did you learn to play cricket like that?' I said: 'Just watching it on TV sir'. He threw me a couple of balls and said come back at 4pm today. So I did and he threw down a few more balls. He said: 'I think you might have something I want to send you for trials at Warwickshire Under-13s. I had no cricket whites, and I had never faced a proper cricket ball, but I turned up at Edgbaston for trials."
Mr Bolland had unearthed a gem in his own playground. Khan not only impressed but was made Warwickshire Under-13s captain, despite being the only state schoolboy in the squad of 13.
"It was the innocence of youth, I knew with a bat in my hand I was quite good," says Khan. "The hard ball didn't scare me, it was just like – bring it on!
"I was fortunate, unless Mr Bolland had an interest in cricket I probably wouldn't have been spotted."
Unfortunately Khan's father, Gulzar, never saw him play professionally, as he died from a heart attack at just 49. With Khan only 15 he saw cricket as his lifeline and pursued it with an even deeper desire.
"My mum came from a very traditional Muslim background," says Khan. "She would support me, it was more my uncles questioning why I was wasting my time hitting a ball around."
Luckily he carried on wasting his time and was offered a full-time contract by Warwickshire at 18. Growing up in England in the 1980s was hard for many Asians, with racial abuse commonplace, but Khan didn't find any barriers to his rise to prominence, as he become a symbol for his community.
"I didn't face any problems, I blended in well," says Khan. "I understood I needed to adapt to the environment as much as the environment needed to adapt to me. I realised that at quite a young age, and I was accepted.
"There were no issues, sport crosses all ethnic divides - that is the power of sport. There I was as an Asian boy scoring a century and winning the game for England Under-19s - I am a hero, I was there on merit and everybody respected that."
The likes of Monty Panesar, Ravi Bopara and current England spin king Moeen Ali have followed in Khan's footsteps, but the 45-year-old believes there is still more the sport can do to bring cricket-made Asians into the fold.
"I think every county can do more to tap into the Asian market," says Khan, who has recently been appointed to the board of Sport England by Culture Secretary John Whittingdale. "There is a lot of good work being done by the England Cricket Board and the counties in terms of trying to engage communities. In Leicester more than 50 per cent of the city is non-white, so there is a huge amount we can do.
"I still think there is a bias towards public schoolboys in county cricket for no other reason than they have the best facilities and the best coaches, while state schools have issues around teacher time and facilities. But it can be done, inner-city Birmingham has produced 15 first-class cricketers in Small Heath - a three-mile radius where I grew up."
After seven years at Warwickshire and then stints at Sussex and Derbyshire Khan decided to move into coaching at 31, before he received a call out of the blue in 2005 that would change his life.
"An unassuming voice said: 'Is this Wasim Khan?' I said: 'Yes' and she said: "I have Mervyn King, Governor of the Bank of England on the other line who would like to talk to you'. I wasn't sure what I could teach him about economics but the voice came on the line and said: 'I have this vision of getting cricket back into state schools, will you come and have a conversation with me?'
"I thought it was quite bizarre, but I went to meet him at the Bank of England the next day."
King wanted Khan to help raise £25 million with the Government promising to match it, engage with two million children and bring cricket to a third of state schools, where it had largely disappeared. As somebody who had only ever played cricket the Chance to Shine campaign was a huge strategic and organisational challenge.
"I had three KPIs and I sort of worked backwards from there," says Khan. "Cricket has 39 county cricket boards across the country, so we had a natural network to work through and then it was trying to work out how we build a scalable programme. Using the coaches from the board, they were our delivery arm, we brought in Loughborough University to evaluate the social and educational impact of the programme. We were raising and spending £6m a year of which only 17 per cent were on our overheads, all the rest was directly back into the programme."
By any measure the campaign was a huge success. It reached 2.5 million children, one million of them girls, visited 10,000 schools that had not played the game before and, Khan believes, has left a lasting legacy, especially in the rise of women's cricket.
Its impact saw Khan awarded an MBE in 2013 for services to cricket and community and a private lunch with the Queen and Prince Phillip.
"I thought it was a tax letter," says Khan. "I didn't open it for three days. It was pretty incredible, there was only five of us in the room for two and half hours. It was like sitting with your Grandma in a café putting the world to right."
The campaign also inspired Khan to learn more about strategy and running an organisation and he enrolled to do an Executive MBA at Warwick Business School.
"Because I had no formal education I felt it would support me down the line, I felt I was ready for academia," says Khan. "I had a real thirst for learning and Warwick was right up there in terms of its recognition as an institute."
The MBA gave Khan the confidence to go for the CEO position at Leicestershire when it arose, despite the county not having won a first-class game for more than two years and suffering four consecutive annual losses. Within a year he had turned a £250,000 loss into a profit.
"We are investing quite a lot into our ground, with new floodlights and stands, developing the culture here, getting the right people doing the right jobs and empowering people, who were unhappy to be here," says Khan. "We are selling a vision about where we want to be, local companies are getting involved and for the first time we have a five-year naming rights for the ground.
"By 2019 our aim is to be the leading non-international cricket club in the country, and in division one. We have recently been selected as one of five venues for the ICC Women's World Cup in 2017."
After leading the first wave of Asian cricketers into the English game, Khan is hoping his move into the boardroom will inspire more from the country's ethnic minority to follow him.
"To be the only non-white CEO across any professional sports organisation in this country is a pretty sad statistic," says Khan. "I implore Asians to not just think about the playing side, but think about the administration side as well and get yourself in a position of influence so you can do a lot more."
Bringing more ethnic diversity into the country's boardroom is one barrier that campaigners have tried to break for some time. Some are calling for positive discrimination to end the cycle of white middle-aged men appointing white middle-aged men.
"I am not a huge fan of that," says Khan. "There is more of an educational piece needed rather than forcing people's hand. They may do it because they have to, but they will not really embrace it or place a value on it. Rather than telling people 25 per cent of boards should be female or BME, people have to see the value, meritocracy is something I believe in.
"I like the idea of independent nomination boards. De Montfort University is helping us do this, it has been through it all before and has a very good board now."
It might be the biggest barrier Khan has faced yet, but don't bet against him breaking this one too.
WBS Alumni should now have received the latest edition of Core. If you have not, please check your details are up-to-date here.
If you are currently not a student or an alumni at Warwick Business School but would like a copy of Core, please click here to download Core edition one, two and three.