Core magazine: Why board diversity is still an issue
02 November 2016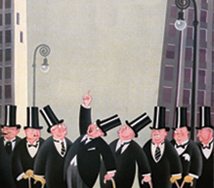 Exclusive article from WBS magazine Core

Old boys club still dominantes boardroom selection
Targets for diversity should be set at every level of management
Companes need education in selection bias and benefits of diversity
Getting more women and ethnic diversity into the boardroom has been on the agenda of organisations, campaigners and governments for some time, but it still hasn't happened. Ian Wylie finds out why.
Why are the boards of British companies so stubbornly white and male? Despite a growing consensus that companies with more diverse boards perform better or take more ethical decisions, the percentage of female or non-white executive directors in the UK's biggest companies remains pitifully small.
Not only does boardroom diversity reflect the real world and the diversity of clients and customers, healthy debate from different perspectives can lead to better decision-making. Innovative ideas often spring from disruption of the status quo. And examples set in the boardroom encourage a trickle-down effect within organisations.
"Lack of diversity hurts businesses and gives the wrong message to younger generations," says Marianna Fotaki, Professor of Business Ethics at Warwick Business School and co-author of Gender in the Organisation: Women at Work in the 21st Century. "Diversity brings different perspectives, greater innovation, and people tend to behave more ethically, rather than conforming to the social norms of the in-group. Diversity is not just good practice - it's simply the right thing to do."
Related article: Diversity in boardrooms not just about meeting numbers
Yet in 2015 all-white executive teams ran 69 per cent of FTSE 100 companies – that's up from 65 per cent at the start of 2014, according to a study by Green Park Executive Recruitment, which found not a single person of Chinese or east Asian origin on the board of any of Britain's biggest companies. According to the Office of National Statistics, in 2015 14 per cent of the UK population was non-white.
Former UK business secretary Vince Cable called on FTSE 100 firms to ensure they recruit at least one non-white director by 2020. He had considered calling on companies to aim for 20 per cent of directors to be drawn from ethnic minorities by 2020, but the target was reduced following lobbying from the Confederation of British Industry and Institute of Directors.
Cable also led the calls for an increase in the number of women in Britain's boardrooms. A review by Lord Davies set a target of increasing board membership of women to 25 per cent in FTSE 100 companies by 2015. Having started at 12.5 per cent, it stood at more than 22 per cent in 2015. However, that overall figure was boosted by women in part-time roles, with around 28 per cent of FTSE 100 non-executive directors being women, compared with just over eight per cent in executive directorships.
The UK Government is using targets rather than legally binding quotas. In Norway, the first European country to force gender quotas on listed companies - the Government enforced a law in 2008 stipulating that women must make up at least 40 per cent of boards at listed companies that have more than 10 employees.
However, research by the Norwegian School of Management and New York-based consulting firm McKinsey and Co suggests the quota has done little to remove the "glass ceiling", with many women still failing to succeed in the top tier of large firms.
Belgium, Iceland, Italy, the Netherlands and Spain have all enforced gender quotas with varying degrees of success. Whether quotas are effective or not, national governments are frustrated with the pace of change among their largest companies.
"Governments won't get a great deal of action unless there is firm and solid regulatory requirement placed on organisations to force them to make the change," says Kim Hoque, Professor of Human Resource Management.
Hoque's research includes a study of the UK Government's Two Ticks scheme for encouraging employers to employ more people with disabilities. He concluded that the scheme made little substantive difference.
"Voluntary standards such as these don't do much more than badge existing good practice," he says. "Whether or not a scheme prompts change comes down to the enforcement regime. The real areas of power in corporate boardrooms remains white male-dominated, and if the Government wants greater change, I think there has to be an element of stick as well as carrot."
It's a view shared by Meryl Bushell, a former BT Chief Procurement Officer, who is completing a PhD at WBS examining the role of networking in boardroom selection processes.
Board and senior executive level jobs are rarely advertised and Bushell's research draws on data gathered from 82 interviews with chairs, headhunters and aspiring or recently appointed male and female directors, to see if and why aspiring female directors have poorer quality networks and less "social capital" than their male peers.
"The selection process is based on word-of-mouth recommendations and informal referencing from existing chairs and senior board directors," says Bushell, who explains the UK Corporate Governance Code requires organisations to either use headhunters to manage director selection activities or explain why they did not use them.
"The aim of this provision is to widen the pool of potential candidates and move away from selection through the 'old boys' club'," she says. "But I found that even when headhunters were used, the main sourcing activity was through asking existing chairs to nominate individuals.
"Where the chair of the company with the vacancy nominated an individual, that individual invariably was placed on the long list and maintained an advantage throughout the selection process."
Executive director roles are often filled through internal promotions, without the use of headhunters, and where individuals have been identified and nurtured through a succession planning process.
Individuals identified in this manner are very often sponsored by the CEO and chair of the organisations. The role of building trusting informal relationships is even more important in these circumstances.
Three quarters of the male aspiring directors interviewed by Bushell described being championed by their CEO or chair. That compares with only one in seven female aspiring directors recalling a similar experience. When questioned, the chairs described sponsoring individuals in their own image with similar traits and attributes.
"Since chairs are predominantly male, their traits and attributes favoured males," says Bushell. "For both executive and non-executive roles, selections were rarely made based on measurable objective criteria. A certain level of competence was taken as a given if a Chair had recommended an individual, and judgements were predominantly based on 'chemistry' and 'fit'."
The male aspiring directors also had more informal relationships with the predominantly male 'influencers', meeting them for drinks and dinners. Bushell found that women, on the other hand, tended to keep the relationship with male influencers to formal work interactions, although they did go for drinks and dinners with female colleagues (who tended to be more junior).
Related article: Gender pay gap issue set to continue for some time
Having forged trusting relationships, the male aspiring directors were much better at keeping in touch with previous bosses and influential others when they moved jobs, and therefore knew more people who could potentially recommend them for board roles.
There was a noticeable difference too between the networking activities of male and female aspiring directors. The men attended both business-focused events and business social events such as golf tournaments, racing at Ascot, rowing at Henley, and Wimbledon during work time. The female aspiring directors did not attend these events to anything like the same extent, missing out on maintaining and building relationships with influencers.
"The women were happy to attend business events and undertake networking, which gave benefit to their employer, but were far less keen on doing this to benefit their personal goals," says Bushell. "The male aspiring directors were more cognisant of the personal benefits, and studied attendance lists to ensure they only attended events with senior people present."
In short, men are far more willing than women to leverage their social capital when looking for board level roles. All but one of the male aspiring directors reached out to their influential contacts and asked them to bear them in mind if they heard of any board roles.
The vast majority of the female aspiring directors did not do this, preferring instead to use the formal route of registering their interest with headhunters. Even when the female aspiring directors did ask influential contacts for help, they were far less likely to receive it. They were both less able and less willing to leverage their social capital.
Employers, employees and governments all need to take action, believes Bushell. "If organisations are truly committed to diversity they need to examine their succession planning activities to ensure that women have the same access to sponsorship from the senior executive as men," she argues. "Senior managers need to be educated about gender differences, stereotyping and selection bias."
Targets for diversity should be set at every level of management in organisations, recommends Bushell, to increase the diversity of the talent pool from which directors are selected. Rigorous selection processes based on measurable objective criteria should be used.
For employees, the prescription is more awareness of the importance of social capital and its role in selection processes at more senior levels.
"Many female aspiring directors did not realise how important this is," says Bushell. "Women should consider attending business events and should pay more attention to maintaining important relationships for their own career development purposes."
Bushell agrees that voluntary codes lack teeth. "Policies with more strength are needed to counter biases," she says. "Personally, I believe in quotas, but not just at board level. They need to be at every management level to ensure that diversity reaches the top in executive positions, where the real power is held."
Kim Hoque teaches Employment Relations in Britain and Introduction to Human Resource Management on the MSc Human Resource Management & Employment Relations. He also teaches Equality and Diversity on a number of Undergraduate courses.
Marianna Fotaki teaches Business in Society on the Executive MBA, Sustainability and Business Ethics on the Full-time MBA. She also delivers Current Issues in Leadership, Ethical Leadership and Leading and Managing Change on the suite of MSc Business courses, plus Governance and Corporate Responsibility on the MSc Management.